Vardenafil- 20
Vardenafil-20 mg
Vardenafil is used to treat erectile dysfunction (impotence; inability to get or keep an erection) in men. Vardenafil is in a class of medications called phosphodiesterase (PDE) inhibitors. It works by increasing blood flow to the penis during sexual stimulation.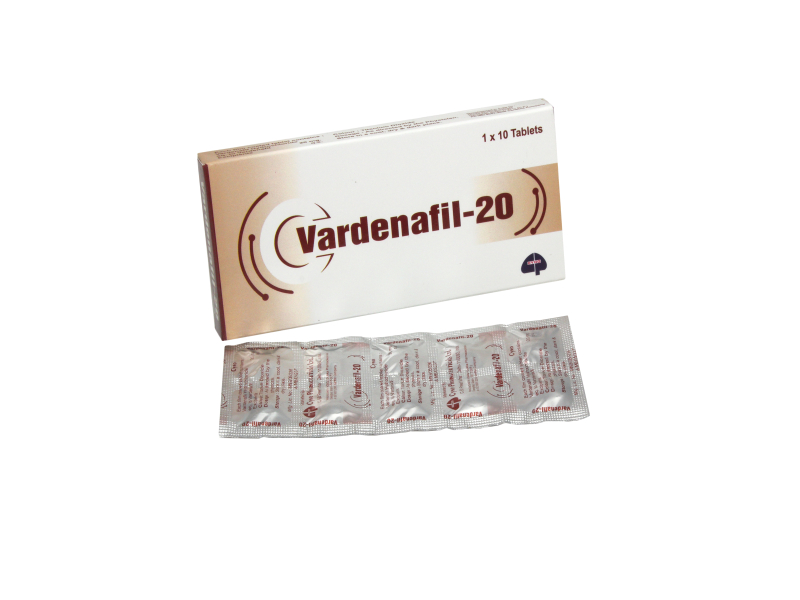 Mechanism of action:
Vardenafil inhibits cGMP specific phosphodiesterase type 5 (PDE5) which is responsible for the degradation of cGMP in the corpus cavernosum located around the penis. Penile erection during sexual stimulation is caused by increased penile blood flow as a result of relaxation of the penile arteries and the corpus covarnosal smooth muscle. This response is mediated by the release of nitric oxide (NO) from nerve terminals and endothelial cells, which stimulates the synthesis of cGMP in smooth muscle cells. Cyclic GMP causes smooth muscle dysfunction and increases in the blood vessel. Inhibition of phosphodiesterase type 5 (PDE5) by vardenafil enhances erectile function by increasing the amount of cGMP.
Pharmacokinetics:
Absorption: In vardenafil tablets, vardenafil is rapidly absorbed with maximum observed plasma concentrations, which begin 15 minutes after oral administration in some men. However, 90% of the time, maximum plasma concentrations reach 30 to 120 minutes (mid-60 minutes) of the oral dose in the fasting state. Mean complete oral bioavailability is 15%. The oral dosage of vardenafil is increased proportionally to approximately the recommended dose range (5 – 20 mg) of AUC and Cmax.
When vardenafil tablets are taken with a high-fat diet (containing 57% fat), the rate of absorption decreases, an increase in the median of 1 hour and an average decrease in Cmax of 20%. Vardenafil AUC is not affected. After a 30% fat meal, the rate and extent of absorption of vardenafil (Tmax, Cimax and AUC) are unchanged compared to administration under fasting conditions.
Distribution: The average stable volume of distribution for valdanfil is 208 L, indicating distribution in tissues.
Vardenafil and its major circulating metabolite (M1) are highly bound to plasma proteins (approximately 95% of vardenafil or M1). For vardenafil as well as M1, protein ligation is independent of total drug concentrations.
Depending on the measurement of vardenafil in the semen of healthy subjects 90 minutes after the dose, no more than 0.00012% of the administered dose may appear in the semen of the patients.
Biotransformation: Vardenafil is metabolized primarily by liver metabolism in tablets via the cytochrome P450 (CYP) isoform 3A4 with some contributions to CYP3A5 and CYP2C isoforms.
A major circulating metabolite (M1) in humans results from abrogation of valdnafil and is subject to a subsequent half-life metabolism with plasma elimination of approximately 4 hours. Some parts of M1 occur as glucuronide in the systemic circulation. The metabolite M1 exhibits a phosphodiesterase selectivity similar to vardenafil and in vitro potency for approximately 28% of phosphodiesterase type 5 compared to vardenafil, resulting in an efficacy contribution of approximately 7%.
Elimination: The total body clearance of vardenafil is 56 L / h resulting in a half-life of approximately 4–5 hours. After oral administration, vardenafil is excreted primarily in the form of metabolites administered in feces (approximately 91–95% of the administered dose) and to a lesser extent in the urine (approximately 2–6% of the administered dose).
Pharmacodynamics:
Pharmacotherapeutic group: Urological, used in drug erectile dysfunction.
Vardenafil is an oral therapy for the improvement of erectile function in men with erectile dysfunction. In a natural setting, that is, with sexual stimulation, it restores impaired erectile function by increasing blood flow to the penis.
Penile erection is a hemodynamic process. During sexual stimulation, nitric oxide is released. This enzyme activates Gwinnet cyclase, resulting in an increased level of corpus guanosine monophosphate (cGMP) in the corpus cavernosum. This relaxes the muscles, which increases blood flow to the penis. The level of cGMP is controlled by the rate of synthesis through the glynet cyclase and the rate of degradation through cGMP hydrolyzing phosphodiesterase (PDE).
Vardenafil is a potent and selective inhibitor cGMP specific phosphodiesterase type 5 (PDE5), the most prominent PDE in the human corpus cavernosum. Vardenafil potentially enhances the effects of endogenous nitric oxide in the corpus covarnosum by inhibiting PDE5. When nitric oxide is released in response to sexual stimulation, vardenafil results in increased corpus cavernosum levels of cGMP from inhibition of PDG5. Therefore, sexual stimulation is required to produce sexually beneficial therapeutic effects.
Precautions:
Vardenafil can cause a condition that affects the heart rhythm (prolonged QT). Prolonged QT can rarely cause severe (rarely fatal) rapid / irregular heartbeats and other symptoms (such as severe dizziness, fainting) that require immediate therapy.
If you have some medical conditions or may have prolonged QT, taking other medications may increase the risk of prolonged QT. Before using Vardenafil, tell your doctor or pharmacist about all the medications you take and if you have any of the following conditions: Fixed heart problems (heart failure, slow heart rate, EKG Prolonged QT), family history of some heart problems (QT), prolonged age in EKG, sudden cardiac death).
Side effects:
Rarely, a sudden loss or loss of hearing can sometimes occur with ringing and dizziness in the ears. If these effects occur, stop taking vardenafil immediately and seek medical help.
In the rare event that you have painful or prolonged pain lasting 4 or more hours, stop using this medicine and seek medical attention immediately, or permanent problems may occur.
If you have any very serious side effects, seek medical attention immediately: rapid / irregular heartbeat, seizures, temporary memory loss.
A very severe allergic reaction to this drug is rare. However, if you notice symptoms of a severe allergic reaction, seek medical attention, including: rash, itching / swelling (especially of the face / tongue / throat), severe dizziness, shortness of breath.
Dosage:
Usual adult dose for erectile dysfunction:
Initial dose: 10 mg once a day, as needed, about 60 minutes before sexual activity. Increase to 20 mg or decrease to 5 mg depending on efficacy and tolerability.
Maximum: 20 mg once a day
Patients on stable alpha blocker therapy:
Active dose: 5 mg orally once a day
Over dosage:
In cases of overdose, standard supportive measures should be adopted as required. Renal dialysis is not expected to accelerate clearance, as vardenafil is highly bound to plasma proteins and is not significantly eliminated in urine.
Warning:
Some medicines may cause unwanted or dangerous effects when used with valdanafil. Tell your doctor about all your medications, especially Riokigat (Edampas). Do not take vardenafil if you are using nitrate medication for chest pain or heart problems, including nitroglycerin, isosorbide dinitrate, isosorbide mononitrate, and some recreational drugs such as "poppers". Taking vardenafil with a nitrate medication can cause a sudden and severe decrease in blood pressure.
Drug- drug interactions:
As with all PDE5 inhibitors, vardenafil should not be used by people taking nitrate medications, as combining them with vardenafil can provoke potentially life-threatening hypotension (low blood pressure).
In addition, vardenafil causes the QT interval to be prolonged. Therefore, it should not be taken by people taking other drugs that affect the QT interval (such as amiodarone).
Adverse reactions:
Common, adverse drug reactions (side effects) are similar to other PDE5 inhibitors. Repeated vardenafil-specific side effects are nausea; contagious side effects are abdominal pain, back pain, sensitivity, abnormal vision, eye pain, facial edema, hypotension, palpitation, tachycardia, arthralgia, myelgia, rash, itching, and retardation.
Possibly severe, but rare, side effects with wardenfill are heart attacks. Also, in rare cases, vardenafil use can cause priapism, a very painful emergency that can lead to impotence if not to be treat well.
On 18 October 2007, the US Food and Drug Administration (FDA) announced that a warning about possible deafness (sudden hearing loss) would be added to the drug label of vardenafil and other PDE5 inhibitors.
Pregnancy:
There is no study of vardenafil in pregnant women.
Containdication:
Hypersensitivity to any of the active substances or excipients.
Co-administration of vardenafil with nitrates or nitric oxide donors (such as amyl nitrite) in any form is contraindicated.
Vardenafil is contraindicated in patients who have vision loss in one eye because of non-arterial anterior ischemic optic neuropathy (NAION), regardless of whether this episode preceded exposure to phosphodelesterase 5 (PDE5) inhibitor.
Medicinal products for the treatment of erectile dysfunction should generally not be used in men for whom sexual activity is unknown (eg severe cardiovascular disorders such as unstable angina or severe heart failure.
Storage:
Store this medicine in original packaging at room temperature away from light and moisture. Do not store in the bathroom.