RIME 100DT
Cefixime (100 mg), Lactic Acid Bacillus (60 m.s.)
Cefixime is an oral third-generation cephalosporin antibiotic. It is used to treat gonorrhea, tonsillitis, and pharyngitis. The usual dose is 400 mg in two divided doses for 5–7 days.
Some people use Bacillus coagulants to prevent respiratory infections and ramp up the immune system. It is also used to prevent cancer or to manufacture cancer-causing agents. There is also some interest in using vaccines as an additive to improve their effectiveness. Lactic acid bacillus is dormant bacteria that are good for the intestine. It helps in treating bacterial infections. They inhibit the growth of other pathogenic bacteria that cause diarrhea or other bacterial infections.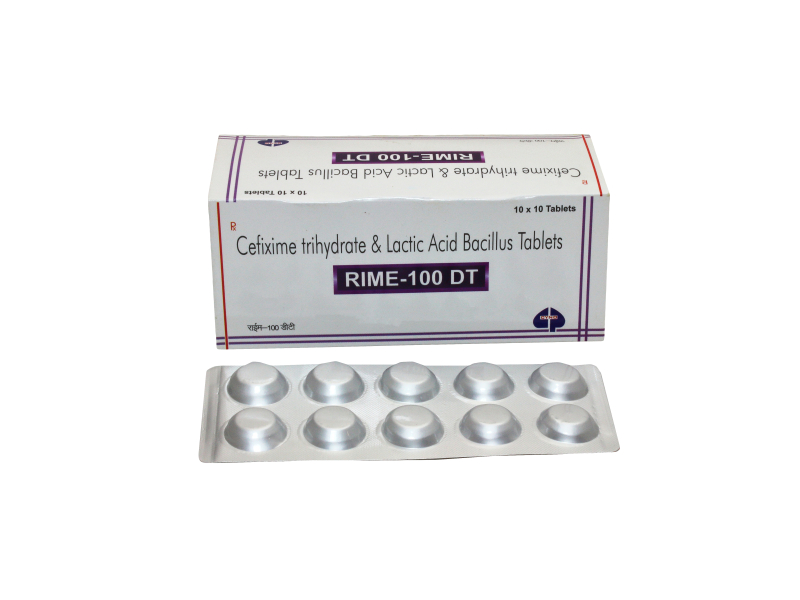 Mechanism of Action:
Cefixime binds to specific penicillin-binding proteins (PBPs) located inside the bacterial cell wall, thereby inhibiting the third and final phase of bacterial cell wall synthesis. Cell lysis is then mediated by bacterial cell wall autolytic enzymes such as autolysins; cefixime may interfere with an autolysin inhibitor.
Pharmacokinetic Properties:
Cefixime binds to one or more of the penicillin-binding proteins (PBPs) which inhibits the final transpeptidation step of peptidoglycan synthesis in the bacterial cell wall, thus inhibiting biosynthesis and arresting the cell wall assembly resulting in bacterial cell death.
Absorption
Only 40-50% is absorbed from the GI tract (oral); the rate may be decreased if taken with food. Greater absorption from oral suspension than tablets.
Distribution
Bile, urine (high concentrations); crosses the placenta. Protein-binding: 65%.
Excretion
20% of an oral dose excreted via urine unchanged; 60% nonrenal elimination; some is excreted via the feces from the bile. Substantially removed by dialysis.
Drug-Drug infections:
Although some drugs should not be used together, in other cases two different drugs may be used together, even though an interaction may occur. In these cases, your doctor may want to change the dose, or other precautions may be necessary. When you are taking this medicine, it is especially important that your health care professional knows if you are taking any of the medicines listed below. The following interactions have been chosen based on their potential importance and are not necessarily all inclusive.
Certain medicines should not be used at or around the time of eating food or eating certain types of food since interactions may occur. Using alcohol or tobacco with certain medicines may also cause interactions to occur. Discuss with your healthcare professional the use of your medicine with food, alcohol, or tobacco.
Precautions:
History of allergy to penicillins; pregnancy, lactation; renal failure; GI disease.
Should be taken with food.
Breastfeeding:
Rime 100mg Tablet DT is safe to use during breastfeeding. Human studies suggest that the drug does not pass into the breastmilk in a significant amount and is not harmful to the baby.
Fertility:
Animal studies have failed to reveal evidence of fetal loss or impaired fertility up to 400 times the recommended dose of humans; However, the incidence of miscarriage was increased at levels reaching maternal toxicity. There are no controlled data in human pregnancy.
Dosage:
Adult: PO- Susceptible infections- The recommended dose is 200-400 mg/day.
Uncomplicated gonorrhea- The recommended dose is 400 mg as a single dose.
Duration of action:
peak serum levels in approximately 4 hours. The
half-life is about 3 to 4 hours and is not dose-dependent. Cefixime is excreted by renal and
biliary mechanisms. About 50% of the absorbed dose is excreted unchanged in the urine within
24 hours. There is no evidence of the metabolism of cefixime in vivo.
Adverse Reaction:
Adverse drug reactions include diarrhea, indigestion, nausea, and vomiting. Hypersensitivity reactions such as skin rashes, hives, and Stevens-Johnson syndrome have been reported. Although thrombocytopenia has been reported for many cephalosporins, it has not been reported for syphixime. There is no specific antidote for Cefixime overdose. Gastric lavage may be performed. Dialysis will not remove significant amounts of Cefixime.
Storage:
Store it at room temperature and in an airtight container. Keep away from children.
Overdosage:
Gastric lavage may be indicated; Otherwise, no specific antidote exists. Significant amounts of Cefixime are not removed from circulation by hemodialysis or peritoneal dialysis. Adverse reactions to small numbers of healthy adult volunteers receiving cefixes of up to 2 grams did not differ from the profile observed in patients treated at the recommended doses.
Contradictions:
Cefixime is contraindicated in patients with known sensitivity or allergy in the cephalosporin class of antibiotics. As Cefixime is a third-generation cephalosporin, it is not contraindicated for patients with a true penicillin allergy.
Side Effects:
Pseudomembranous colitis, thrombocytopenia, thrombophlebitis, leucopenia, seizures, flatulence, dizziness, headache, nausea, vomiting, anorexia, diarrhea, abdominal pain, urticaria, pruritus, dyspepsia, hypersensitivity.
Warnings:
To make sure cefixime is safe for you, tell your doctor if you are allergic to any drugs, especially penicillins.
The chewable tablet form may contain phenylalanine. Talk to your doctor before using this form of cefixime if you have phenylketonuria (PKU).
It is not known whether this medicine will harm an unborn baby. Tell your doctor if you are pregnant.
It is not known whether cefixime passes into breast milk or if it could harm a nursing baby. Tell your doctor if you are breast-feeding. You may need to stop nursing while you are taking cefixime.
The cefixime suspension (liquid) contains sucrose. Talk to your doctor before using this form of cefixime if you have diabetes.
Pregnancy:
Information regarding the use of Rime 100mg Tablet DT during pregnancy is not available. Please consult your doctor.