GEFCY - 250
It is a drug used for certain breast, lung and other cancers. Gefitinib is the first selective inhibitor of epidermal growth factor receptor's (EGFR) tyrosine kinase domain. Thus Gefitinib is an EGFR inhibitor. The target protein (EGFR) is a family of receptors which includes Her 1(erb-B1), Her 2(erb-B2), and Her 3(erb-B3). EGFR is over expressed in the cells of certain types of human carcinomas – for example in lung and breast cancers. This leads to inappropriate activation of the anti-apoptotic Ras signalling cascade, eventually leading to uncontrolled cell proliferation. Research on Gefitinib-sensitive non-small cell lung cancers has shown that a mutation in the EGFR tyrosine kinase domain is responsible for activating anti-apoptotic pathways. These mutations tend to confer increased sensitivity to tyrosine kinase inhibitors such as Gefitinib and Erlotinib.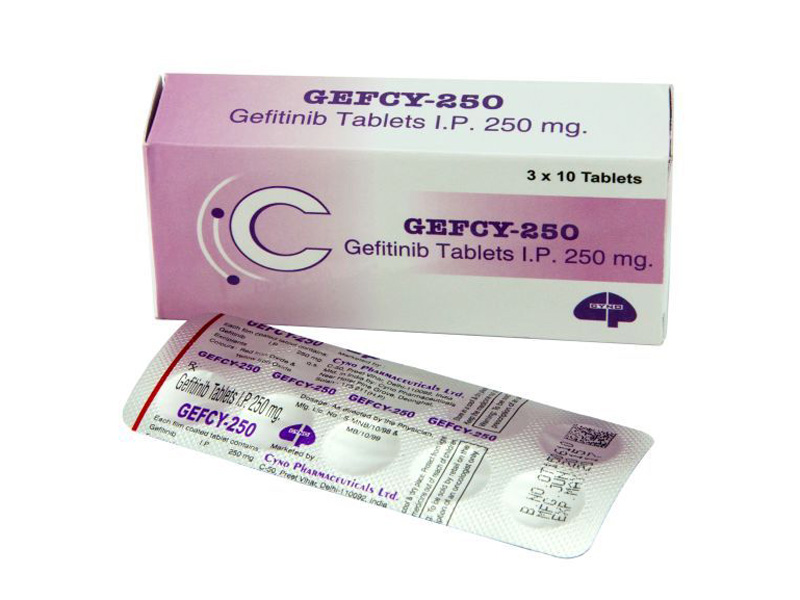 Mechanism of action:
Gefitinib inhibits EGFR tyrosine kinase by binding to the adenosine triphosphate (ATP)-binding site of the enzyme. Thus the function of the EGFR tyrosine kinase in activating the anti-apoptotic Ras signal transduction cascade is inhibited, and malignant cells are inhibited.
Drug Formulation:
Gefitinib is an anilinoquinazoline with the chemical name 4-Quinazolinamine, N-(3-chloro-4¬ fluorophenyl)-7-methoxy-6-[3-4-morpholin] propoxy). Tablet core: Lactose monohydrate, microcrystalline cellulose, croscarmellose sodium, povidone, sodium lauryl sulfate and magnesium stearate. Coating: Hydroxypropyl methylcellulose, polyethylene glycol 300, titanium dioxide, red ferric oxide and yellow ferric oxide.
Pharmacokinetic Properties:
Absorption:
The peak plasma levels of Gefitinib occur within 3-7 hrs. The absolute bioavailability is ∼ 60% in healthy volunteers and cancer patients. Administration of a granular formulation, a dispersion of the classic tablets or administration by nasogastric tube did not significantly influence the bioavailability. Food has only a moderate and clinical non-significant effect on Gefitinib exposure.
Distribution:
Gefitinib is extensively distributed into the tissues and highly protein bound (to albumin and AGP) which results in a large volume of distribution of 1400L and a long half life of 48hrs. The penetration in the CNS is poor, probably as a result of ABCB1 mediated efflux at the blood-brain barrier. The drug preferably distributes into highly perfused tissues (lung, liver, kidney and gastrointestinal tract) including tumor tissues.
Metabolism:
In vitro studies indicate that Gefitinib is metabolized by CYP3A4, CYP3A5, CYP2D6 and by the extrahepatic enzyme CYP1A139. The main metabolite is the O-desmethyl derivate (M523595) which is present at concentrations similar to Gefitinib and is formed through CYP2D6 metabolism.
Excretion:
About 90% of Gefitinib is recovered in feces (86%) and urine (0.5%) over 10 days indicating that renal excretion is not a major route of elimination.
Side effects:
1. Bloating or swelling of face, arms, hands, lower legs, or feet 2. Burning, dry or itching eyes 3. Change in vision 4. Difficult or labored breathing 5. Tightness in chest 6. Tingling of hands or feet 7. Unusual weight gain or loss 8. Wheezing
Contraindications:
Gefitinib is contraindicated in patients with severe hypersensitivity to Gefitinib or to any other component of Gefitinib.
Drug- Drug Interactions:
Drugs that cause significant sustained elevation in gastric pH (histamine H2-receptor antagonists such as ranitidine or cimetidine) may reduce plasma concentrations of Gefitinib and therefore potentially may reduce efficacy.
Precautions:
1. Not recommended for use during pregnancy. It may cause harm to an unborn baby.
2. Tell your doctor or pharmacist if you are allergic to it; or if you have any other allergies or any other diseases, like lung disease (e.g., pulmonary fibrosis), severe kidney disease, eye problems, stomach/intestinal ulcers, smoking, cancer that has spread to the bowels.
Dosage:
The recommended daily dose of Gefitinib is one 250 mg tablet with or without food. Higher doses do not give a better response and cause increased toxicity.
Storage:
Store at controlled room temperature 20-25°C (68-77°F).
Pregnancy:
Gefitinib may cause fetal harm when administered to a pregnant woman.
Overdose:
There is no specific treatment for Gefitinib overdose. Adverse reactions observed, are mainly diarrhea and skin rash. Adverse reactions associated with overdose should be treated symptomatically.