CYPAN D
Pharmacology of Drug -Pantoprazole
Mechanism of Action
Pantoprazole is a proton pump inhibitor. It is a prodrug. After administration it diffuses in to the parietal cell of the stomach and accumulates in the secretory canaliculi. In the acidic medium Pantoprazole is converted to sulfenamide. This sulfenamide covalently interacts with sulfhydryl (SH) group in the proton pump (H+ K+ATPase) and inhibits the exchange of extracellular K+ for intracellular H+ ion. Pantoprazole irreversibly inhibits proton pumps activity and decreases gastric acid secretion. Pantoprazole is more acid stable and its activity is lowered in higher pH. It is the only proton pump inhibitor which is available as parenteral form.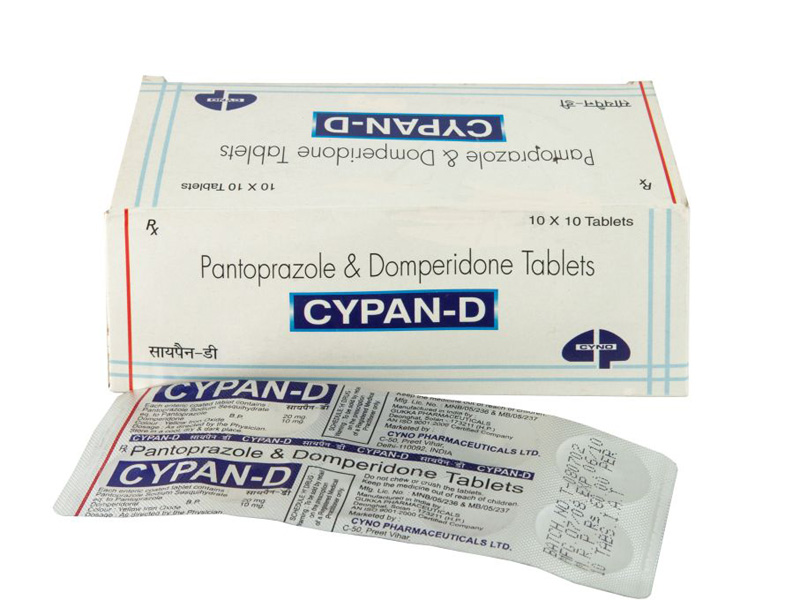 Pharmaco Kinetics
Absorption: Pantoprazole is well absorbed after oral administration. Its bioavailability is about 77% since it`s undergoes first pass metabolism. Distribution: It is widely distributed in the body in protein bound form. Metabolism: Pantoprazole is extensively metabolised in the liver. Excretion: It is excreted mainly in the urine and small amount in faeces.
Onset Of Action 2-4 hours

Half Life 60 minutes

Duration Of Action 1 day

Adverse Effects
1. Diarrhoea 2. Nausea 3. Vomiting 4. Headache 5. Flatulence 6. Abdominal pain 7. Pruritis 8. Dizziness 9. Rash
ContraIndications 1. Hypersensitivity to Pantoprazole

Special Precautions
1. Hepatic impairment 2. Monitor liver function 3. Avoid prolonged use

Pregnancy Contraindicated

Breast Feeding Contraindicated

Old Age Use with caution

Children Use with caution Below 12 years : Contraindicated

Interactions
Phenazone (antipyrine), diazepam, digoxin, theophylline, carbamazepine, diclofenac, phenprocoumon, phenytoin, warfarin, nifedipine, caffeine, metoprolol or ethanol : No clinically relevant interaction at therapeutic doses. Oral contraceptives : Does not appear to compromise hormonal contraceptive efficacy as no interaction with a low dose combined oral contraceptive has been seen.

Indications
1. Duodenal ulcer 2. Benign Gastric ulcer 3. Zollinger- Ellison syndrome 4. Gastroesophageal reflux disease

Dosage
Oral : Adult: 20-40mg / day before breakfast. Duodenal ulcer: 40mg / day to be taken before breakfast for 2 – 4 weeks. Benign Gastric ulcer: 40mg / day to be taken before breakfast for 1 – 2months. Zollinger- Ellison syndrome: 80 mg / day in 2 divided doses increase the dose to 240 mg/ day if needed. Gastroesophageal reflux disease: 20 – 40 mg / day to be taken before breakfast for 1 month and continue the treatment for 1 more month if needed. Parenteral: 40 mg once daily as IV injection over 15 minutes. Children below 12 years : Not recommended

Schedule H

Storage
Store at 15 – 30 degree C in a tightly closed container. Protect from light.

Over Dose Give supportive measures and symptomatic treatment.