CYNAGRA 50
Sildenafil Citrate (50 mg)
Cynagra 50mg Tablet is a medication used to treat erectile dysfunction in men. It helps the prostate to increase blood flow to the penis and achieve or maintain erections. It is a group of drugs known as phosphodiesterase 5 (PDE5) inhibitors.
Sildenafil is a drug used to treat erectile dysfunction and pulmonary arterial hypertension. It is not clear whether it is effective for the treatment of sexual dysfunction in women. It is carried into the vein by mouth or injection.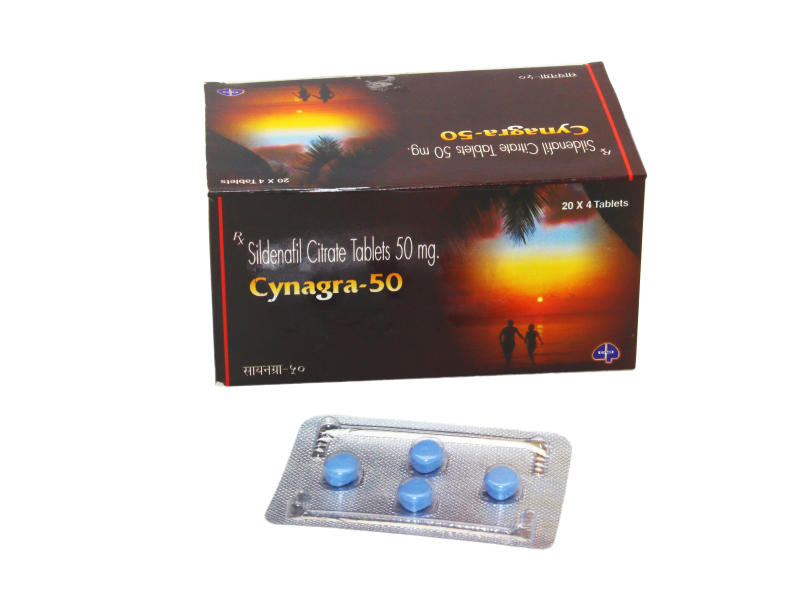 Mechanism of Action
Sildenafil is a phosphodiesterase enzyme (PDE5) inhibitor. This enzyme is responsible for the degradation of cyclic guanosine monophosphate (cGMP) produced in response to sexual stimulation. The more cGMP available, the more durable the construction. Sildenafil inhibits the PDE5 enzyme, preserving cGMP levels, therefore supporting erectile viability and durability due to the filling of the penis with penile blood. Filling occurs because the blood vessels that carry blood to the penis increase in size and carry more blood to the penis and at the same time, the blood vessels that carry blood from the penis decrease in size and draw less blood from the penis. Sexual stimulation that leads to an erection causes the production and release of nitric oxide in the corpora cavernosa of the penis.
Nitric oxide causes an enzyme guanylate cyclase, to produce cyclic guanosine monophosphate (cGMP). It is cGMP that is primarily responsible for moving and enlarging blood vessels from the penis to the penis and causes an erection, respectively. When cGMP is destroyed by the enzyme phosphodiesterase-5, the blood vessels return to their normal size, the blood leaves the penis, and the erection ceases. Sildenafil inhibits phosphodiesterase-5 by destroying cGMP so that cGMP will last longer. The persistence of cGMP leads to prolonged bulging of the penis with blood. It relaxes the muscles and increases the flow of blood to particular areas of the body.
Onset Of Action Within 30 minutes
Half-Life 4 hours
Indications
1. Erectile dysfunction
Pharmacokinetic Properties:
Absorption: It is easily absorbed by the bloodstream and bioavailability is about 40%. Distribution: It is widely distributed in tissues in a protein-bound form (96% bound to plasma proteins). Metabolism: It is metabolized in the liver, known as CYP3A4, and other enzymes that produce active N-desmethyl derivatives. Excretion: It is excreted mainly in small amounts in feces (80%) and urine.
Drug-Drug interactions:
Non-specific beta-blockers, loops, and potassium-sparing diuretics increase the efficacy of sildenafil. Concomitant administration of sildenafil 100mg and amlodipine 5 or 10mg in hypertensive patients led to a decrease in blood pressure by the addition of 8 mm Hg systolic and 7 mm Hg diastolic. Psychochrome P450 inhibitors such as erythromycin, ketoconazole, itraconazole are likely to reduce sildenafil withdrawal.
Precautions:
1. Do not take Sildenafil more than once a day 2. Contact doctor if erection is painful or lasts longer than 4 hours 3. Heart disease 4. Recent history of a heart attack (within the past 90 days) 5. Recent history of stroke or congestive heart failure (within the past 6 months) 6. Angina 7. Hypotension 8. Hypertension 9. Liver disease 10. Kidney disease 11. Sickle cell anemia 12. Multiple myeloma 13. Leukemia 14. Haemophilia 15. Stomach ulcer 16. Retinitis pigmentosa 17. Peyronie`s disease (a physical deformity of the penis) 18. Diabetes 19. High cholesterol 20. Pre-existing eye problems 21. One who smoke or are over 50 years old
Breastfeeding: Contraindicated
Fertility:
Sildenafil had no statistically significant effect on sperm motility, count, or density; Percentage of abnormal sperm forms; Or the percentage of living sperm. It also did not affect the ejaculation volume or viscosity. All measures were within normal limits.
Dosage:
Adult: 50 mg taken, 1 hour before sexual activity or anywhere from 0.5 – 4 hours before sexual activity. Based on effectiveness and toleration, the dose may be increased to a maximum of 100 mg or decreased to 25 mg. The maximum recommended dosing frequency is once per day.
Duration of action:
4 hours
Adverse Reaction:
1. Facial flushing 2. Headaches 3. Stomach upset 4. Diarrhea 5. Flu-like symptoms 6. Nausea 7. Back pain 8. Muscle aches 9. Low blood pressure 10. Blurred vision 11. Abnormal ejaculation 12. Prolonged erections 13. Sweating 14. General ill feeling 15. Irregular heartbeat 16. Swelling in hands, ankles, or feet 17. Shortness of breath 18. Lightheadedness 19. Fainting In pre-existing heart disease: 1. Chest pain 2. Heart attacks 3. Death 4. Strokes 5. Palpitations and increased heart rate 6. Vision changes
Storage:
Store at room temperature between 15-30°C. Protect from moisture and heat. Keep out of the reach of children.
Overdosage:
No overdose, if any overdose occurs then seek immediate medical attention. Give supportive measures and symptomatic treatment.
Contraindications:
1. Hypersensitivity to Sildenafil 2. Patients on nitrate therapy 3. Patients taking a-adrenergic receptor antagonist
Warnings:
Sildenafil can cause a severe allergic reaction. Symptoms may include:
Difficulty breathing
Swelling of your throat or tongue
If you develop these symptoms, call the doctor.
If you ever had an allergy to it, do not take this medicine again. Taking it again can be fatal (cause of death).
The use of beverages that contain alcohol makes you at risk of low blood pressure from sildenafil. If you drink alcohol, talk to a doctor.
Pregnancy
Contraindicated
Breast Feeding
 Contraindicated
Old Age
Use with caution
Children
Contraindicated
Neonates:
Contraindicated