OMIP D
Omeprazole (20 mg), Domperidone (10 mg)
This combination medication contains a proton pump inhibitor and antidopaminergic agent, prescribed for ulcers, indigestion, and acid stomach.
Omeprazole is a proton pump inhibitor used in the treatment of indigestion, peptic ulcer disease, gastroesophageal reflux disease, laryngopharyngeal reflux, and Zollinger-Eliras syndrome.
Domperidone, sold under the brand name Motilium, among others, is a drug used as an antiemetic, gastric prokinetic agent, and galactagogue. It can be taken by mouth or rectum and is available in tablet form, orally disintegrating tablets, suspensions, and suppositories. Domperidone is a medicine that increases the movements or contractions of the stomach and bowel. Domperidone is also used to treat nausea and vomiting due to other medications used to treat Parkinson's disease. Domperidone is to be given only or under the supervision of your doctor.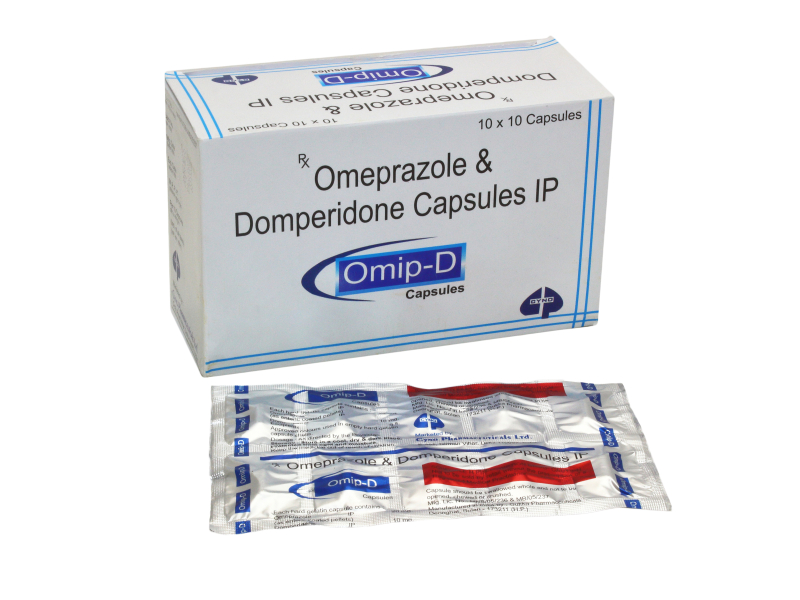 Mechanism of Action:
Omeprazole is a selective and irreversible proton pump inhibitor. It suppresses the secretion of stomach acid by specific inhibition of the H + / K + ATPase system found on the secretory surface of gastric parietal cells. Because this enzyme system is considered as an acid (proton, or H +) pump within the gastric mucosa, omeprazole will inhibit the final stage of acid production.
Omeprazole will also inhibit both basal and stimulated acid secretion despite stimulation.
Pharmacokinetics :
The absorption of omeprazole occurs in the small intestine and is usually completed within 3–6 hours. The systemic bioavailability of omeprazole after repeated doses is approximately 60%.
Omeprazole is fully metabolized by the cytochrome P450 system, primarily in the liver. The identified metabolites are sulfone, sulfide, and hydroxy-omeprazole, which have no significant effect on secretion. About 80% of the orally administered dose is excreted in the urine in the form of metabolites and the rest is found in feces, mainly arising from bile secretion.
Domperidone is a peripheral specific inhibitor of dopamine receptors. It is administered orally, or internally. Domperidone is given to relieve nausea and vomiting; To increase the infection of food through the stomach, and lactation by the release of prolactin.
Mechanism of Action: 
Domperidone is a peripheral dopamine (D2) and (D3) receptor, antagonist. It relieves nausea by blocking receptors in the chemo-receptor-triggered zone.
Pharmacokinetics:
Oral absorption of domperidone is found to be 46.5%. The distribution volume is found to be 5.7l / Kg and plasma protein binding 91–93%. Presystemic metabolism has been noted to be 85% and metabolism has been reported extensively by the liver and intestine. Renal excretion is predominant 31% and 66% in feces and plasma half-life is 12–16 hr (oral), 7.5 hr (parenteral).
Drug-Drug interactions:
Drug interactions can change how your medications work or increase your risk for serious side effects. This document does not contain all possible drug interactions. Keep a list of all the products you use (including prescription / nonprescription drugs and herbal products) and share them with your doctor and pharmacist. Do not start, stop, or change the dose of any medicine without your doctor's approval.
Precautions:
Should be taken in patients having:
• Hypersensitivity
• Gastrointestinal hemorrhage
• Obstruction and perforation
• Patients with prolactin releasing pituitary hormone
• Renal or hepatic impairment
• Risk of cardiac arrhythmias and hypokalaemia
Report to the physician if the patients are allergic to Domperidone or any other drugs
Breastfeeding:
This medication passes into breast milk. If you are a lactating mother and are taking domperidone, it may affect your baby. Talk to your doctor if you should continue breastfeeding.
Fertility:
Animal studies with racemic mixtures omeprazole given by oral administration do not indicate effects regarding fertility.
Dosage:
Domperidone doses will be different for different patients. Follow your doctor's orders or the instructions on the label. The following information only includes the average dose of domperidone. If your dose is different, do not change it unless your doctor asks you to do so.
The amount of medicine you take depends on the strength of the medicine. Besides, the number of doses you take each day, the time between doses, and the length of time you take the drug depend on the medical problem for which you are using the drug.
Duration of action:
Omeprazole takes about 1 hour to block the production of stomach acid, and it has maximum effect 2 hours after taking the pill. The action of omeprazole may continue for about 3 days.
Adverse Reaction:
The most frequent significant adverse effects occurring in at least 1% of patients include:
Central nervous system: Headache (7%), dizziness (2%)

Respiratory: Upper respiratory infection (2%), cough (1%)

Gastrointestinal: Abdominal pain (5%), diarrhea (4%), nausea (4%), vomiting (3%), flatulence (3%), acid regurgitation (2%), constipation (2%)

Neuromuscular & skeletal: Back pain (1%), weakness (1%)

Dermatologic: Rash (2%)
Storage:
Store between 15°C-30°C.
Protect from light and moisture.
Overdosage:
Do not use more than the prescribed dose. Taking more medication will not improve your symptoms; Rather they can cause poisoning or serious side effects. If you suspect that you or anyone else may have overdosed on Omeprazole Domperidone Capsule, please go to the emergency department of the closest hospital or nursing home. Bring a medical box, container, or label with you to help doctors with the necessary information.
Do not give your medicines to other people, even if you know they have the same condition or think they may have a similar situation. It may be higher.
Please consult your physician or pharmacist or product package for more information.
Contraindictions:
Hypersensitivity, gastrointestinal hemorrhage, obstruction and perforation, patients with prolactin releasing pituitary hormone
Report to the physician immediately if the patients are having any of the following symptoms:
• Drowsiness
• Extrapyramidal reactions
• Galactorrhoea
• Gynaecomastia
• Constipation
• Diarrhoea
• Decreased libido
• Skin rash
• Itching
• Convulsions
• Arrhythmias and cardiac arrest
• Dysrhythmias in patients with cardiac disease or hypokalaemia
Warnings:
Heartburn can mimic the early symptoms of a heart attack. Get emergency medical help if you have chest pain that extends to your jaw or shoulder and you feel anxious or mild.
You should not use this medicine if:
you also take the medicine that contains rilpivirine (Edurant, Complera, Juluca, Odefsey);

if you had breathing problems, kidney problems, or a severe allergic reaction after taking pantoprazole in the past;

you are allergic to pantoprazole or similar medicines (lansoprazole, omeprazole, Nexium, Prevacid, Prilosec, and others).
Pregnancy:
This medication should not be used during pregnancy unless the benefits outweigh the risks. If you become pregnant while taking this medication, contact your doctor immediately.
Children: The safety and effectiveness of using this medication have not been established for children.