CAMBIVIR 200
Acyclovir (200 mg)
Acyclovir  is a guanosine analogue antiviral drug. It is one of the most commonly used antiviral drugs, that is primarily used for the treatment of herpes simplex virus infections, as well as in the treatment of varicella zoster (chickenpox) and herpes zoster (shingles).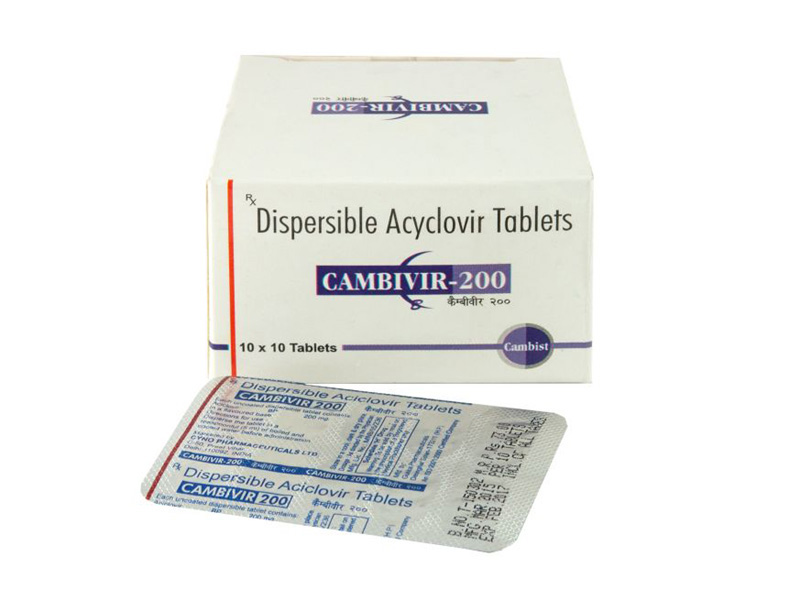 Mechanism of action:
Acyclovir is converted into acyclovir monophosphate by viral thymidine kinase, which is then converted into acyclovir triphosphate (ACV-TP) by host cell kinase. ACV-TP, in turn, inhibits HSV-denoted DNA polymerase without further affecting normal cellular processes and further inhibits viral DNA synthesis.
Pharmacokinetics:
Acyclovir is poorly soluble in water and has poor oral bioavailability (15–30%), so intravenous administration is necessary if high concentrations are required. When administered orally, peak plasma concentration occurs after 1–2 hours. Acyclovir has a high delivery rate; Protein binding is reported to range from 9 to 33%. The elimination of acyclovir depends on the half-life (T1 / 2) age group; Newborns have a t1 / 2 of 4 hours, children 1–12 years have a t1 / 2 of 2-3 hours while adults have a t1 / 2 of 3 hours.
Medical Uses:
Acyclovir is used for the treatment of herpes simplex virus and varicella-zoster virus infections, including:
Genital herpes simplex (treatment and prevention)
Herpes simplex labialis (cold sores)
Ringworm
Acute chickenpox in immune patients
Herpes simplex encephalitis
Acute mucocutaneous HSV infection in immunocompromised patients
Eye shingles and herpes simplex blepharitis a chronic form of herpes eye infection)
Prevention of immunosuppressive people (eg herpes virus in people undergoing cancer chemotherapy)
Common adverse drug reactions include nausea, vomiting, diarrhea, encephalopathy, and headache.
Side effects:
Get emergency medical help if you have signs of an allergic reaction: hives; difficult breathing; swelling of your face, lips, tongue, or throat.
Call your doctor at once if you have:
easy bruising or bleeding, purple or red pinpoint spots under your skin;
changes in behavior;
confusion, hallucinations; or
signs of a kidney problem–little or no urinating; painful or difficult urination; swelling in your feet or ankles; feeling tired or short of breath.
Common side effects may include:
mild skin pain;
rash, itching;
nausea, vomiting, diarrhea;
headache; or
mouth pain while using an acyclovir buccal tablet
Drug- Drug interactions:
If your doctor has directed you to use this medicine, then your doctor or pharmacist may already know about any possible medications and you can monitor them. Do not start, stop, or change the dose of this medicine or any medicine before first seeking medical advice from your doctor, healthcare provider, or pharmacist. Doing so can have serious consequences or side effects.
Although some drugs should not be used together, in other cases two different drugs may be used together, even though an interaction may occur. In these cases, your doctor may want to change the dose, or other precautions may be necessary. When you are taking this medicine, your health care professional must know if you are taking any of the medicines listed below. The following interactions are chosen based on their potential importance and are not necessarily all-inclusive.
Using this medicine with any of the following medicines is not generally recommended, but may be necessary in some cases. If both medicines are prescribed together, your doctor may change the dose or how often you can use one or both medicines.
Dichlorphenamide
Foscart
Leflunomide
Nitisinone
Teriflunomide
Weighment
Precautions:
If your symptoms do not improve within a few days, or if they get worse, check with your doctor.
The areas affected by shingles, chickenpox, or shingles should be kept as clean and dry as possible. Also, wear loose-fitting clothes to avoid disturbing the sores (blisters).
It is important to remember that acyclovir will not keep you from spreading ringworm to others.
Herpes infections of the genitals can be caught or spread by their partner during any sexual activity. Even though you may have shingles if your partner does not have any symptoms, the infection is more likely to spread if lesions are present. This is true until the wounds heal completely and the scab falls. Therefore, it is best to avoid any sexual activity if you or your sexual partner have any symptoms of herpes. The use of a latex condom ("rubber") can help prevent the spread of shingles. However, spermicide (sperm-killing) jelly or a diaphragm probably won't help.
Breast feeding:
Studies in women suggest that this drug poses the least risk to the infant when used during breastfeeding.
Fertility:
There is no information about the effect of aciclovir on human female fertility.
Dosage:
The dose of acyclovir should be reduced in patients with impaired renal function.
Therapy should be started as soon as possible after a diagnosis of chickenpox or herpes zoster or on the first signs or symptoms of an outbreak of genital herpes.
The recommended dose and duration of use are dependent on the indication.
Duration of action:
It has a life of half to 2.5 hours, with normal renal function.
Adverse Reaction:
Stop taking Aciclovir 200 mg Tablet and tell your doctor immediately or go to the casualty department at your nearest hospital. Allergic reactions (may affect up to 1 in 1,000 people)
If you have an allergic reaction, stop taking aciclovir 200 mg tablets and see a doctor directly. Signs may include:
Rash, itching or hives on your skin, swelling of your face, lips, tongue or other, parts of your body, Shortness of breath, wheezing or shortness of breath, collapse.
Storage:
Store the medicine in a closed container at room temperature, away from heat, moisture and direct light. Keep from freezing.
Over dosage:
If you miss a dose of this medicine, take it as soon as possible. However, if it is almost time for your next dose, skip the missed dose and go back to your regular dosing schedule. Do not take double dose.
Contraindictions:
Acyclovir is contraindicated for patients who develop hypersensitivity or who are sensitive to Acyclovir or any other component of Acyclovir formulations.
Warnings:
 Acyclovir capsules, tablets and suspensions are for oral ingestion only. Kidney failure, in some cases resulting in death, has been observed with acyclovir therapy. Thrombotic thrombocytopenic purpura / hemolytic uremic syndrome (TTP / HUS), resulting in death, has occurred in immunologic patients receiving acyclovir therapy.
Pregnancy:
The use of acyclovir should only be considered if the potential benefits reduce the likelihood of unknown risk. A post-marketing acyclovir pregnancy registry has documented pregnancy outcomes in women exposed to any form of acyclovir.
Children:
Acyclovir tablets can be used primarily for the treatment of non-severe skin and mucous membrane herpes simplex virus (HSV) infections. If your child's immune system is not functioning properly, your child's doctor will recommend IV acyclovir for the treatment of neonatal HSV and severe HSV infection.