LEVOCYN 5
Levocetirizine hydrochloride, an antihistamine, is a major metabolite of hydroxyzine, and a racemic selective H1 receptor inverse agonist used in the treatment of allergies, hay fever, angioedema, and urticaria. The structural similarity of levocetirizine to hydroxyzine, and its derivation from piperazine, attribute similar adverse reactions and properties to other piperazine derivatives.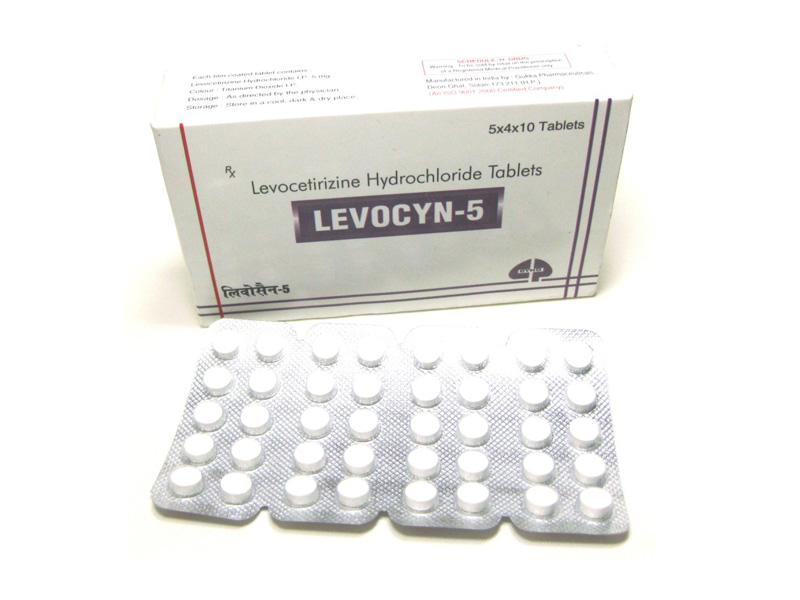 Mechanism Of Action:
Levocetirizine, a human metabolite of hydroxyzine, is an antihistamine; its principal effects are mediated via selective inhibition of peripheral H1 receptors. The antihistaminic activity of Levocetirizine has been clearly documented in a variety of animal and human models. In vivo and ex vivo animal models have shown negligible anticholinergic and antiserotonergic activity. In clinical studies, however, dry mouth was more common with Cetirizine than with placebo. In vitroreceptor binding studies have shown no measurable affinity for other than H1 receptors. Autoradiographic studies with radiolabeled Levocetirizine in the rat have shown negligible penetration into the brain. Ex vivo experiments in the mouse have shown that systemically administered Levocetirizine does not significantly occupy cerebral H1 receptors.
Pharmacokinetics of Levocetirizine Hydrochloride:
Levocetirizine is a potent and highly selective antagonist of the peripheral histamine H1-receptor on effector cells in the GI tract, blood vessels and respiratory tract.
Absorption: Absorbed rapidly from the GI tract (oral); peak plasma concentrations after 1 hr. Rate, but not extent, of absorption altered by food.
Distribution: Enters breast milk; crosses the blood-brain barrier (insignificant amounts). Protein-binding: Highly bound.
Excretion: Via the urine (as unchanged); 10 hr (elimination half-life).
Half Life of Levocetirizine Hydrochloride:
8.3 Hours
Protein binding:
~93%
Side Effects of Levocetirizine Hydrochloride:
Somnolence, insomnia, malaise, headache, dizziness; GI discomfort, dry mouth, abdominal pain, diarrhoea, nausea, vomiting; occasional hypersensitivity; epistaxis, pharyngitis, bronchospasm.
Contra-indications of Levocetirizine Hydrochloride:
Those patients with a known hypersensitivity to it or to its parent compound, hydroxyzine.
Indications:
· Management of seasonal and perennial allergic rhinitis
· Treatment of chronic, idiopathic urticaria
· Treatment of year-round allergic rhinitis and chronic idiopathis urticaria in infants > 6 months
Special Precautions while taking Levocetirizine Hydrochloride:
Hepatic or renal impairment; elderly; tasks requiring mental alertness eg, driving or operating heavy machinery; pregnancy.
Pregnancy & Breast Feeding:
If you are trying to become pregnant or are pregnant, or are breast-feeding you should seek medical advice before taking this medicine. You should not take Cetirizine 10 mg Tablets during breast-feeding because cetirizine passes into breast milk.
Interactions for Levocetirizine Hydrochloride:
Risk of increased INR and epistaxis when taken together with warfarin.
Potentially Fatal: CNS depressants and anticholinergics may potentiate CNS depression of cetirizine.
Storage:
Oral: Store at 20-25°C.
Dosage:
For adults and children over 6 years old, the initial recommended dose is 5 mg or 10 mg as a single dose depending on symptom severity.  For children 2-5 years of age, the initial recommended dose is 2.5 mg daily, max 5 mg daily.
Onset of Action:
20 to 60 min.
Duration:
At least 24 h.
Drug Abuse & Dependence:
There is no information to indicate that abuse or dependency occurs with Levocetirizine hydrochloride