CYNIVE 12
IVERMECTIN
This medication is used to treat certain parasitic roundworm infections. In people with weakened defense (immune) systems, curing roundworm infections can reduce the risk of developing a severe or life-threatening infection. Ivermectin belongs to a class of drugs known as anthelmintic. It works by paralyzing and killing parasites. Ivermectin is mainly used in humans in the treatment of onchocerciasis, but is also effective against other worm infestations (such as strongyloidiasis, ascariasis, trichuriasis and enterobiasis).
Ivermectin has been shown to inhibit the replication of SARS-CoV-2 in cell cultures. Ivermectin docking may interfere with the attachment of the severe acute respiratory syndrome coronavirus 2 (SARS-CoV-2) spike protein to the human cell membrane and may be useful for treatment of COVID-19 as shown in different studies.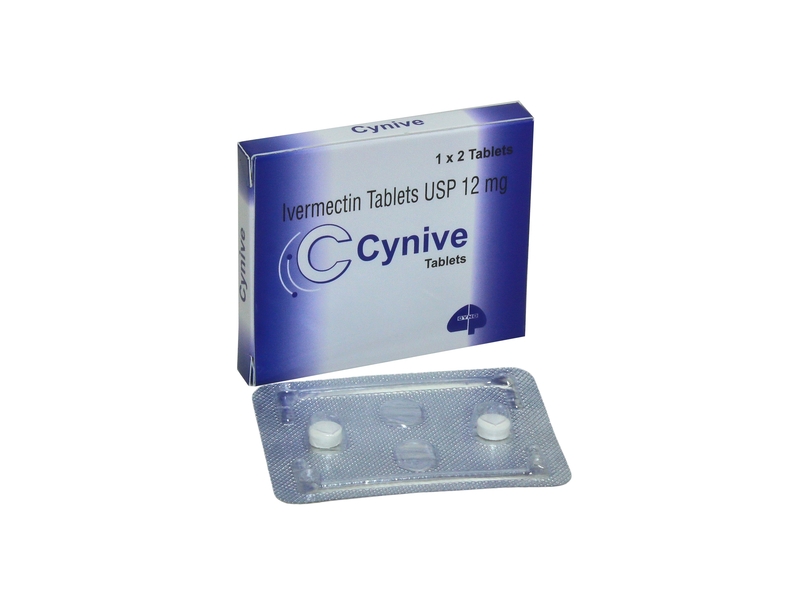 Mechanism Of Action:
Ivermectin binds selectively and with high affinity to glutamate-gated chloride ion channels in invertebrate muscle and nerve cells of the microfilaria. This binding causes an increase in the permeability of the cell membrane to chloride ions and results in hyperpolarization of the cell, leading to paralysis and death of the parasite. Ivermectin also is believed to act as an agonist of the neurotransmitter gamma-aminobutyric acid (GABA), thereby disrupting GABA-mediated central nervous system (CNS) neurosynaptic transmission. Ivermectin may also impair normal intrauterine development of O. volvulus microfilariae and may inhibit their release from the uteri of gravid female worms.
Pharmacokinetics:
Absorption
Moderately well absorbed. Improved absorption with high fat meal.
Volume of distribution
The volume of distribution is 3 to 3.5 L/kg and it does not cross the blood-brain barrier.
Protein binding
93%
Metabolism
Primarily hepatic,Ivermectin is metabolized in the liver
Route of elimination
Ivermectin and/or its metabolites are excreted almost exclusively in the feces over an estimated 12 days, with less than 1% of the administered dose excreted in the urine.
Side effects:
Ivermectin may cause side effects. Tell your doctor if any of these symptoms are severe or do not go away:
dizziness
loss of appetite
nausea
vomiting
stomach pain or bloating
diarrhea
constipation
weakness
sleepiness
uncontrollable shaking of a part of the body
chest discomfort
If you are taking ivermectin to treat onchocerciasis, you may also experience the following side effects. Tell your doctor if any of these symptoms are severe or do not go away:
swelling of the eyes, face, arms, hands, feet, ankles, or lower legs
joint pain and swelling
painful and swollen glands of the neck, armpit or groin
rapid heartbeat
eye pain, redness, or tearing
swelling of the eye or eyelids
abnormal sensation in the eyes
Some side effects can be serious. If you experience any of these symptoms, call your doctor immediately:
fever
blistering or peeling skin
rash
hives
itching
Drug-Drug Interactions
Ivermectin can interact with a number of other medications, vitamins or herbs you may be taking. This can be harmful or prevent the drug from working well. To help avoid interactions, your doctor should manage all of your medications carefully. Be sure to tell your doctor about all medications, vitamins, or herbs you're taking. To find out how this drug might interact with something else you're taking, talk to your doctor or pharmacist.
A few examples are -: Warfarin, Abametapir, dasatinib, deferasirox, itraconazole, nevirapine, rifapentine, etc
Precautions
Tell your doctor and pharmacist if you are allergic to ivermectin or any other medications.
Tell your doctor and pharmacist what other prescription and nonprescription medications, vitamins, nutritional supplements, and herbal products you are taking or plan to take. Be sure to mention if you are taking medications for anxiety, mental illness or seizures; muscle relaxants; sedatives; sleeping pills; or tranquilizers. Your doctor may need to change the doses of your medications or monitor you carefully for side effects.
Tell your doctor if you have or have ever had meningitis, human African trypanosomiasis (African sleeping sickness; an infection that is spread by the bite of the tsetse fly in certain African countries), or conditions that affect your immune system, such as human immunodeficiency virus (HIV).
Dosage
Ivermectin is generally administered as a single dose of 150-200 µg/kg.
Half-life – The half-life of ivermectin in humans is 12–36 hours, while metabolites may persist for up to three days.
Adverse Effects
In the absence of parasitic infection, the adverse effects of ivermectin in therapeutic doses are minimal. Adverse effects seen in filarial infections include fever, myalgia, malaise, lightheadedness, and occasionally postural hypotension. In onchocerciasis, skin oedema, pruritis and mild eye irritation may be seen.
Storage
Keep this medication in the container it came in, tightly closed, and out of reach of children. Store it at room temperature and away from excess heat and moisture
Overdosage
Symptoms of overdose may include:
rash
hives
seizure
headache
tingling of hands or feet
weakness
loss of coordination
stomach pain
nausea
vomiting
diarrhea
dizziness
shortness of breath
swelling of the face, arms, hands, feet, ankles, or lower legs
Contraindications:
Asthma, Hepatic diseases, HIV infection, Loa-Loa coinfections, Onchodermatitis, Pregnancy, Children, Breastfeeding etc.