CYMOVIR - 200
MOLNUPIRAVIR – 200MG
Molnupiravir, is an antiviral medication that inhibits the replication of certain RNA viruses. It is used to treat COVID-19 in those infected by SARS-CoV-2.. Molnupiravir is a prodrug of the synthetic nucleoside derivative N4-hydroxycytidine and exerts its antiviral action by introducing copying errors during viral RNA replication.
Molnupiravir is indicated for the treatment of mild-to-moderate coronavirus disease (COVID-19)
It is the second oral medication against COVID 19 after nirmatrelvir/ritonavir, but with a lower efficacy: about 30% (95% CI, 1–51%) against hospitalization or death in unvaccinated adults with mild or moderate COVID-19 and at least one risk factor for disease progression.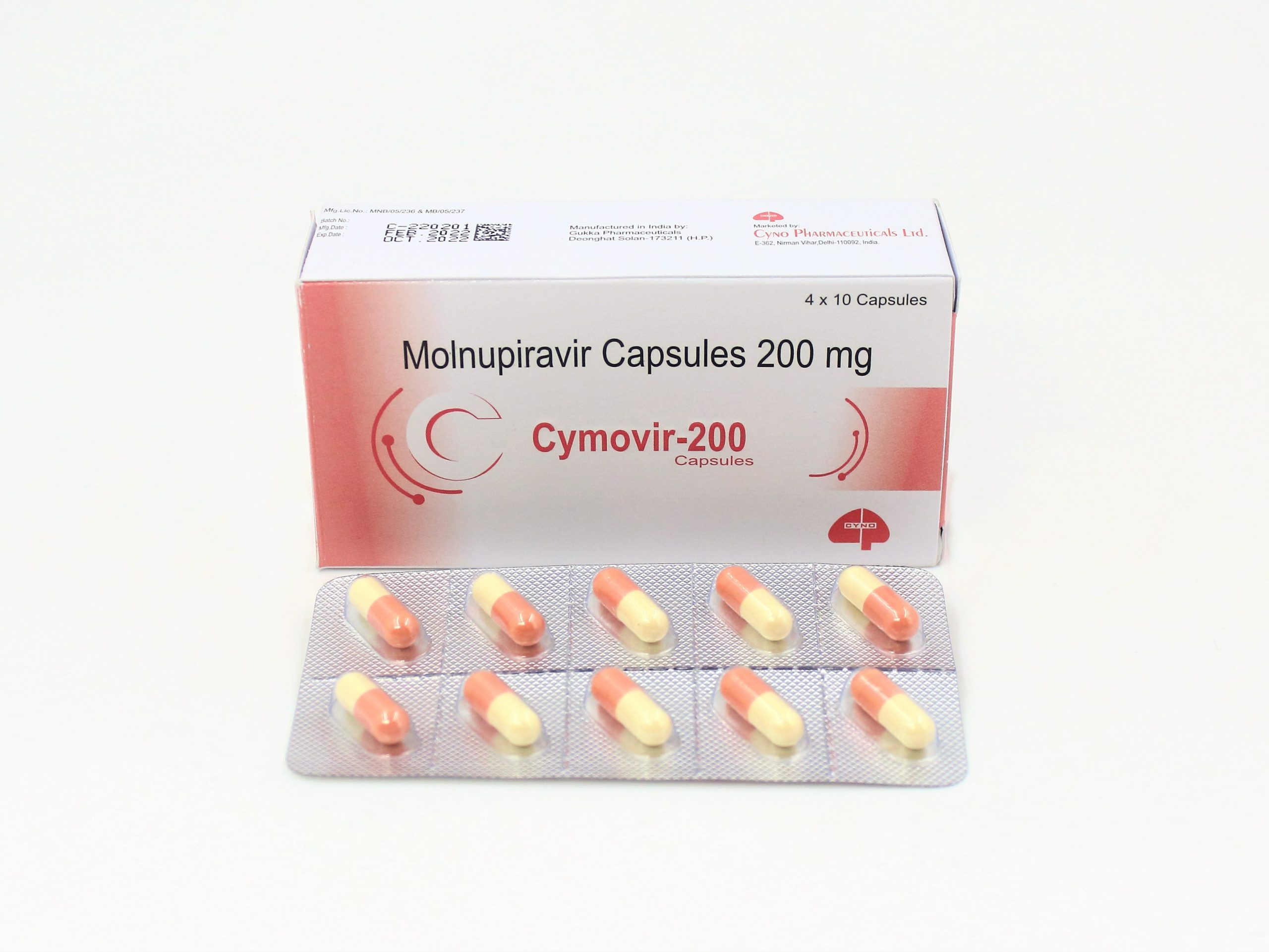 Mechanism of Action
Molnupiravir is a prodrug with antiviral activity against severe acute respiratory syndrome coronavirus-2 (SARS-CoV-2). Molnupiravir is hydrolyzed during or after absorption to form the cytidine nucleoside analog, N4-hydroxycytidine (NHC), which distributes into cells. Once inside the cells, NHC is phosphorylated to form the active ribonucleoside triphosphate (NHC-TP). Viral RNA polymerase (nsp12) then incorporates NHC-TP (as NHC-monophosphate [NHC-MP]) into SARS-CoV-2 RNA. This causes an accumulation of errors in the viral genome leading to inhibition of viral replication (i.e., viral error catastrophe or viral lethal mutagenesis).
Pharmacokinetics
Molnupiravir is administered orally. During or after absorption, molnupiravir is hydrolyzed to the cytidine nucleoside analog, N4-hydroxycytidine (NHC). NHC is the primary circulating component, with an apparent volume of distribution of 142 L. NHC is not bound to plasma proteins, but rather enters into cells were it is phosphorylated to form the pharmacologically active ribonucleoside triphosphate (NHC-TP). NHC is eliminated by metabolism to uridine and cytidine through the same pathways involved in endogenous pyrimidine metabolism. NHC has an apparent clearance of 76.9 L/hour and an effective half-life of approximately 3.3 hours. The fraction of dose excreted as NHC in the urine is up to 3%.[67209]
Absorption-
After an 800 mg oral dose of molnupiravir every 12 hours, the active compound (N4-hydroxycytidine) reaches a Cmax of 2970 ng/mL, with a Tmax of 1.5 hours, and an AUC0-12h of 8360 h*ng/mL.
Protein binding
Molnupiravir and the active metabolite, N4-hydroxycytidine, are not protein bound in plasma.
Metabolism
Molnupiravir is hydrolyzed to N4-hydroxycytidine, which distributes into tissues. Once inside cells, N4-hydroxycytidine is phosphorylated to the 5′-triphosphate form.
Route of elimination
-≤3% of an oral molnupiravir dose is eliminated in the urine as the active metabolite N4-hydroxycytidine
Indications
1. It is used by adults 18 years of age and older who have recently tested positive for coronavirus
2. Molnupiravir may help people who have recently tested positive for coronavirus stay out of the hospital.
Side effects
Diarrhea, nausea, and dizziness may occur. If any of these effects last or get worse, tell your health care professional promptly.
 Drug- Drug Interactions
Drug interactions Information is limited, and it is unknown at this time if molnupiravir has drug interactions.
Warnings and Precautions
1. Before taking this medication, tell your doctor if you have any allergies. This product may contain inactive ingredients which can cause allergic reactions or other problems.
2. Tell your doctor if you are pregnant or plan to become pregnant. You should not become pregnant while taking molnupiravir. Molnupiravir may harm an unborn baby. Your doctor may do a pregnancy test before you start taking this medication.
3. It is unknown if molnupiravir passes into breast milk. Because of the possible risk to the infant, breast-feeding is not recommended while using this drug and for 4 days after stopping the drug. Ask your doctor if you should pump and discard your breast milk during treatment and for 4 days after the last dose of this drug.
Adverse Effects–
Mild- Diarrhea, Dizziness, Nausea, Rash, Urticaria.
Severe- Anaphylactoid reactions, Angioedema.
Moderate- Erythema.
Storage
Store at room temperature away from light and moisture. Do not store in the bathroom.
Keep all medications away from children and pets.
Over dosage-
1. The effects of overdose are unknown.
2. If someone has overdosed and has serious symptoms such as passing out or trouble breathing, call a poison control center right away.
Contraindications
• Antimicrobial resistance
• Breast-feeding
• Contraception requirements
• Reproductive risk
Pregnancy
Molnupiravir is not recommended for use during pregnancy. There are no human data available regarding use of molnupiravir in pregnant patients to evaluate the risk for major birth defects, miscarriages, or adverse maternal or foetal outcomes.
However, animal data suggest maternal use of molnupiravir may cause foetal harm.
Breast Feeding
There are no data available regarding the presence of molnupiravir or its metabolites in human milk, the effects on the breast-fed infant, or the effects on milk production.
Due to the potential for adverse reactions in the infant, breast-feeding is not recommended during treatment with molnupiravir or for 4 days after the last dose.
Lactating mothers may consider interrupting breast-feeding or pumping and discarding breast milk during this time period.