CEFAR-250
Cefuroxime Axetil (250 mg)
Cefuroxime is also known as Ceftin or cephalosporin antibiotic. It is available as a generic drug and used to treat only bacterial infections such as skin, middle ear infections, tonsillitis, throat infections, laryngitis, bronchitis, pneumonia, urinary tract infections, and gonorrhea. It will not work for viral infections.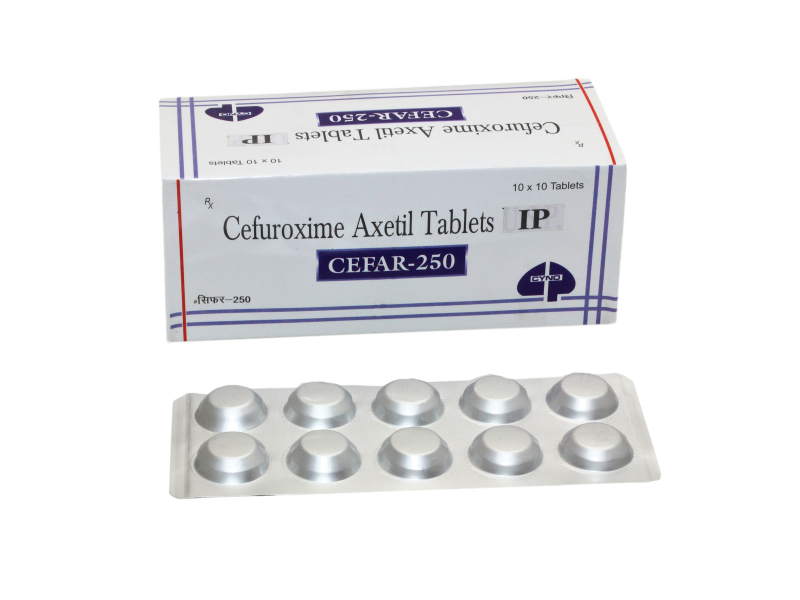 Mechanism of Action
Cefuroxime is a bactericidal agent that acts by inhibition of bacterial cell wall synthesis. Cefuroxime has activity in the presence of some beta-lactamases, both penicillinases and cephalosporinases, of Gram-negative and Gram-positive bacteria.
Pharmacokinetic properties:
Approximately 50% of serum cefuroxime is bound to protein serum. Pharmacokinetic parameters of the dose cefuroxime axetil – 250 the peak plasma concentration 4.1 mcg/me. Time of peak plasma concentration 2.5 (hr.) and mean elimination (half-life) 1.2 and AUC (area under the curve) 12.9.
CEFAR-250 is excreted unchanged in the urine in adults. Approximately 50% of the administrated dose is recovered in the urine within 12 hrs.
Side Effects:
If you have water or bloody diarrhea, fever, chills, body aches, flu symptoms, chest pain, rapid heartbeat, abnormal bleeding, blood in your urine or dark colored urine, severe including seizures (cramps) Feel the side effects, Weakness, jaundice (yellowing of skin or eyes), severe blisters/peeling / red skin rash, grueling, severe tingling, numbness, pain, muscle weakness, increased thirst, loss of appetite, bloating, weight gain, breathlessness The problem of Painful or hard urination, or less frequent urination or none at all.
Drug- Drug interactions:
Antacids -containing aluminum or magnesium, histamine2-receptor antagonists: increased cefuroxime absorption. Concomitant administration of probenecid with CEFAR-250 tablets increases the area under the serum versus the time curve by 50%. Peak serum cefuroxime concentrations after 1.5 g single dose are higher when taken with 1 gram probenecid (mean = 14.8 mcg / ml) compared to probenecid (mean = 14.2 mcg / ml).
Root Initiation PeakDuration P.O. Unknown 2 hours 8-12 hours I.V., I.M. Infusion end infusion 6–12 hr.
Precaution:
Before taking cefuroxime, tell your doctor or pharmacist if you are allergic to it; or to penicillins or other cephalosporin antibiotics (e.g., cephalexin); or if you have any other allergies. This product may contain inactive ingredients, which can cause allergic reactions or other problems. Talk to your pharmacist for more details.
Before using this medication, tell your doctor or pharmacist your medical history, especially of: kidney disease, intestinal disease (colitis), liver disease, poor nutrition.
This drug may make you dizzy or drowsy. Alcohol or marijuana (cannabis) can make you more dizzy or drowsy. Do not drive, use machinery, or do anything that needs alertness until you can do it safely. Limit alcoholic beverages. Talk to your doctor if you are using marijuana (cannabis).
Cefuroxime may cause live bacterial vaccines (such as typhoid vaccine) to not work as well. Do not have any immunizations/vaccinations while using this medication unless your doctor tells you to.
Fertility:
There are no data on the effects of cefuroxime axetil on fertility in humans. Reproductive studies in animals have not shown any effect on fertility. There have been no studies on the effects on the ability to run and use machines.
Dosage:
The adult dosage may range from 125 to 500 mg taken twice a day. A single dose of 1 g is used to treat gonorrhea. Children under the age of 12 may take this drug safely, usually in two daily doses of 125 or 250 mg per dose.
CEFAR-250 works fastest when taken on an empty stomach, but it may be taken with food if it causes stomach upset. For children, the tablets may be crushed and mixed with food.
Duration of Action:
Peak concentrations are reached one hour after dosing; However, it may take up to 48 hours for symptoms related to the infection to dissipate.
Adverse reaction:
CNS headache, hyperactivity, hypertonia, seizures.
GI nausea, vomiting, diarrhea, abdominal pain, dyspepsia, pseudomembranous colitis.
Hematuria, vaginal candidiasis, renal dysfunction, acute renal failure.
Hematologic hemolytic anemia, aplastic anemia, hemorrhage.
Hepatic liver disease.
Metabolic hyperglycemia.
Skin toxic epidermal necrolysis, erythema multiform, Stevens-Johnson syndrome.
Other allergic reactions, drug fever, superinfection and anaphylaxis
Storage:
Store in a cool and dry place. Protect from light and moisture.
Over Dose:
Any medication taken in excess can have serious consequences. An overdose with cephalosporin antibiotics can cause brain irritation, which can cause convulsions. If you suspect an overdose, seek medical attention immediately.
Contraindications:
• Hypersensitivity to cephalosporins or penicillins• Carnitine deficiency
Warning:
If you have ever had a severe allergic reaction to any type of cephalosporin antibiotic (Omnicef, Keflex, and others), you should not use cefuroxime.
Pregnancy:
Use With Caution
Children: Use With Caution
Breast feeding:
Use With Caution.