CYNOSLEEP
Trifluoperazine (1 mg), Chlordiazepoxide (10 mg)
Cynosleep tablet is used in the treatment of schizophrenia. It is a combination medicine that calms the brain by decreasing the abnormal and excessive activity of the nerve cells. It also blocks the action of a chemical messenger in the brain that affects thoughts and mood.
Trifluoperazine is used to treat the symptoms of schizophrenia (a mental illness that causes disturbed or unusual thinking, loss of interest in life, and strong or inappropriate emotions). Trifluoperazine is also used for short-term basis to treat anxiety in people who have not been helped by other medications.
Chlordiazepoxide is used to relieve anxiety and to control agitation caused by alcohol withdrawal. Chlordiazepoxide is in a class of medications called benzodiazepines. It works by decreasing abnormal electrical activity in the brain.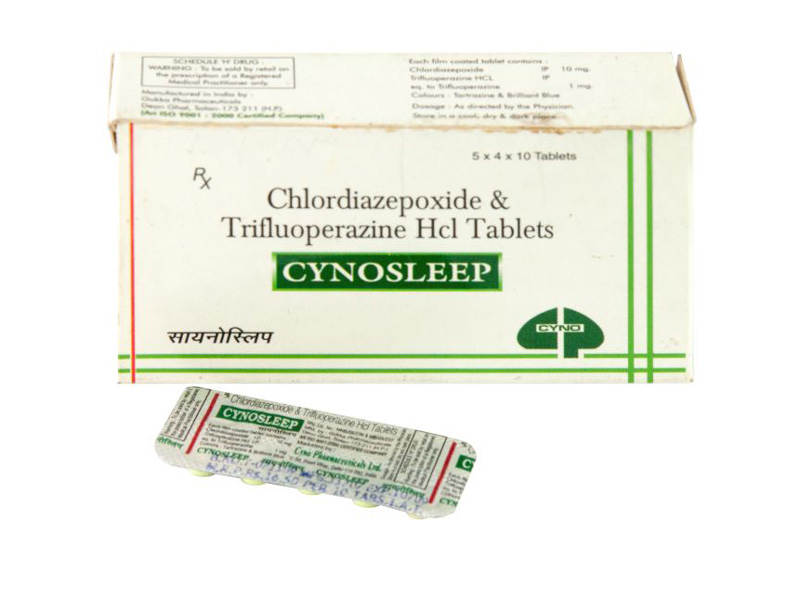 Mechanism of action:
When administered to a normal person these drugs are emotionally calm, apathetic to the surroundings, and unconscious. When given to psychologists, they reduce agitation, aggression, and lead behavior to normality. There may be movement disorders in his administration.
Trifluoperazine has central antiadrenergic, antidopaminergic, and minimal anticholinergic effects. It is believed that dopamine D1 and D2 receptors are believed to function by blocking the mesocortical and mesolimbic pathways, relieving or reducing such symptoms of schizophrenia as hallucinations, delusions, and disorganized thoughts and speech.
Chlordiazepoxide enhances the activity of the inhibitory transmitter GABA resulting from stabilization of chloride ions by increasing neurological-membrane permeability in various parts of the CNS. It has some muscle relaxant and anticonvulsant activity.
Pharmacokinetic Properties:
Chlordiazepoxide is a long-acting benzodiazepine drug. Chlordiazepoxide has a half-life of 5 – 30 hours but contains an active benzodiazepine metabolite desmethyldiazepam, which has a half-life of 36 – 200 hours. The half-life of chlordiazepoxide is greatly increased in the elderly, which may result in prolonged action as well as accumulation of the drug during repeated administration. Delayed body clearance of long-life active metabolites also occurs in people over 60 years of age, which increases the effect of drugs with additional accumulation after further doses. Despite its name, chlordiazepoxide is not an epoxide; It is made from different roots.
Drug-Drug interactions:
Drug interactions may change how your medications work or increase your risk for serious side effects. This document does not contain all possible drug interactions. Keep a list of all the products you use (including prescription / nonprescription drugs and herbal products) and share them with your doctor and pharmacist. Do not start, stop, or change the dose of any medicine without your doctor's approval.
Some of the products that interact with this drug include anticholinergic/antispasmodic drugs (such as atropine, dichloramine, scopolamine), drugs that increase the amount of dopamine in your body (eg, cabin online, levodopa, pergolide, ropinirole), guanethidine, lithium. Phenytoin, propranolol, warfarin, other drugs that cause vertigo on standing (including alpha-blockers such as parison).
Tell your doctor or pharmacist if you are taking other products that cause drowsiness or may slow down sleep, including alcohol, marijuana (cannabis), antihistamines (such as cetirizine, diphenhydramine), sleep and anxiety medications (Eg alprazolam, diazepam, zolpidem), muscle relaxants and opioid painkillers (eg codeine).
Check the label on all your medications (such as allergy or cough-and-cold products) as they may contain ingredients that cause drowsiness. Ask your pharmacist about using those products safely.
This drug may interfere with some laboratory tests (such as the phenylketonuria test), which may possibly lead to false test results. Make sure that laboratory personnel and all your doctors know that you use this medicine.
Precautions:
Special Precautions while taking Chlordiazepoxide
1.Renal impairment
2.Hepatic impairment
3.Myasthenia gravis
4.Respiratory disease
5.Jaundice
6.Use caution while driving vehicles, operating machines, or other dangerous activities
Breastfeeding:
Two mothers taking trifluoperazine 5 and 10 mg per day breastfed their infants until the age of 1 week and 8 weeks, respectively. Mental and psychomotor development was measured at various times until the age of 30 months and was found to be normal.
A mother started taking trifluoperazine (dose unspecified) after 2 months of delivery while breastfeeding her infant. She started taking 10 mg of allazanapine, paroxetine, and pricyclidine (dose unspecified) daily. The baby had no adverse reactions.
Fertility: 
No side effects but concern to the doctor.
Dosage:
Take the missed dose as soon as you remember. If it is almost the time for your next dose, skip the missed dose. Do not double your dose to make up for the missed dose.
 Duration of action:
Max 4 weeks including dose tapering of 2 weeks.
Adverse Reaction: Benzodiazepines impair learning and memory through their action on benzodiazepine receptors, which cause dysfunction in the cholinergic neuronal system in mice. It was later found that scopolamine impairment in learning was due to an increase in benzodiazepine / GABA activity (and benzodiazepines were not associated with the cholinergic system). In tests with various benzodiazepine compounds, chlordiazepoxide was found to cause the greatest reduction in turnover of 5HT (serotonin) in mice. Serotonin is intimately involved in regulating mood and may be a cause of feelings of depression in mice using chlordiazepoxide or other benzodiazepines.
Storage:
Store at room temperature between 68–77 ° F (20–25 ° C), away from light and moisture. Do not store in the bathroom. Keep all medicines away from children and pets.
Unless instructed not to do so, do not put medicines under the toilet or drain them. When this period expires or is not required, discard this product appropriately. Consult your pharmacist or local waste disposal company to find out more about leaving your product safely.
Overdosage:
If anyone has treatment and has severe symptoms such as passing out or trouble breathing, contact your doctor.  Otherwise, call the poison control center immediately. Symptoms of an overdose may include severe drowsiness / deep sleep, loss of consciousness, agitation, restlessness, seizures, irregular heartbeat.
Seek emergency medical treatment or contact a doctor in case of an overdose.
Contraindications:
Chlordiazepoxide is generally considered an inappropriate benzodiazepine for the elderly due to prolonged elimination and the risks of accumulation. Benzodiazepines require special caution if used in the elderly, pregnant, children, alcohol- or drug-dependent individuals, and individuals with comorbid psychiatric disorders.
Side effects:
Common side effects:
• Nausea
• Flu-like symptoms
• Drowsiness
• Dizziness
• Dry mouth
All people don't need to experience the above side-effects.
Warnings:
This medicine has a black box warning. This is the most serious warning by the Food and Drug Administration (FDA). A black box warning alerts doctors and patients about the effects of the drug which can be dangerous.
Trifluoperazine may increase the risk of death in seniors with dementia-related psychosis. People with dementia-related psychosis should not use this medicine.
Pregnancy:
Chlordiazepoxide and diazepam are considered to be some of the safer benzodiazepines to use during pregnancy than other benzodiazepines. Potential adverse effects from the use of benzodiazepines during pregnancy include miscarriage, morbidity, intrauterine growth retardation, functional deficits, carcinogenesis, and mutations. Caution is also advised during breastfeeding as chlordiazepoxide is converted into breast milk.