CISZINE
Cetirizine Hydrochloride (10 mg)
Cetirizine hydrochloride, an antihistamine, is a major metabolite of hydroxyzine, and a racemic selective H1 receptor inverse agonist used in the treatment of allergies, hay fever, angioedema, and urticaria. The structural similarity of cetirizine to hydroxyzine, and its derivation from piperazine, attribute similar adverse reactions and properties to other piperazine derivatives.
Ciszine is the combination of the Cetrizine and ambroxol salts. Cetrizine is an antiallergic medicine that is used to treatment of cough, runny nose, watery eyes, and sneezing. Ambroxol is a mucolytic that thins and loosens mucus (phlegm), making it easier to cough out.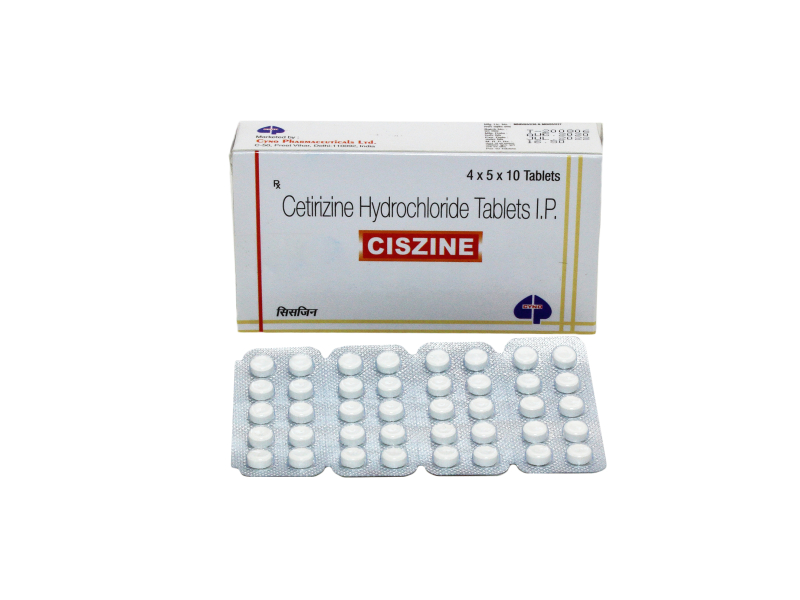 Mechanism Of Action:
Cetirizine, a human metabolite of hydroxyzine, is an antihistamine; its principal effects are mediated via selective inhibition of peripheral H1 receptors. The antihistaminic activity of Cetirizine has been documented in a variety of animal and human models. In vivo and ex vivo, animal models have shown negligible anticholinergic and antiserotonergic activity. In clinical studies, however, dry mouth was more common with Cetirizine than with placebo. In vitroreceptor binding studies have shown no measurable affinity for other than H1 receptors. Autoradiographic studies with radiolabeled Cetirizine in the rat have shown negligible penetration into the brain. Ex vivo experiments in the mouse have shown that systemically administered Cetirizine does not significantly occupy cerebral H1 receptors.
Half-Life of Cetirizine Hydrochloride: 8.3 Hours
Protein binding: ~93%
Indications
· Management of seasonal and perennial allergic rhinitis
· Treatment of chronic, idiopathic urticaria
· Treatment of year-round allergic rhinitis and chronic idiopathic urticaria in infants > 6 months
The onset of Action: 20 to 60 min.
Duration: At least 24 h.
Pharmacokinetic Properties:
Cetirizine is a potent and highly selective antagonist of the peripheral histamine H1-receptor on effector cells in the GI tract, blood vessels, and respiratory tract.
Absorption: Absorbed rapidly from the GI tract (oral); peak plasma concentrations after 1 hr. Rate, but not extent, of absorption altered by food.
Distribution: Enters breast milk; crosses the blood-brain barrier (in significant amounts). Protein-binding: Highly bound.
Excretion: Via the urine (as unchanged); 10 hr (elimination half-life).
Drug-Drug interactions:
Risk of increased INR and epistaxis when taken together with warfarin.
Potentially Fatal: CNS depressants and anticholinergics may potentiate CNS depression of cetirizine.
Precautions: Hepatic or renal impairment; elderly; tasks requiring mental alertness eg, driving or operating heavy machinery; pregnancy.
Pregnancy & Breast Feeding
If you are trying to become pregnant or are pregnant, or are breast-feeding you should seek medical advice before taking this medicine. You should not take Cetirizine 10 mg Tablets during breast-feeding because cetirizine passes into breast milk.
Fertility:
Limited data is available on human fertility but no safety concern has been identified.
Animal data show no safety concern for human reproduction.
Dosage:
For adults and children over 6 years old, the initial recommended dose is 5 mg or 10 mg as a single dose depending on symptom severity. For children 2-5 years of age, the initial recommended dose is 2.5 mg daily, max 5 mg daily.
Duration of action:
It is eliminated in the urine through an active transport mechanism. During the study of approximately 8.3 hours, cetirizine has a half-life of 6.5 to 10 hours in healthy adults. The duration of the action is at least 24 hours.
Adverse Reaction:
Cardiac disorders: Severe hypotension
Gastrointestinal disorders: Cholestasis
Nervous system disorders: Extrapyramidal symptoms, myoclonus, orofacial dyskinesia, tic
Pregnancy, puerperium and perinatal conditions: Stillbirth
Renal and urinary disorders: Glomerulonephritis
Skin and subcutaneous tissue disorders: acute generalized exanthematous pustulosis (AGEP); rebound pruritus-pruritus within a few days after discontinuation of cetirizine, usually after long-term use (eg, months to years)
Storage: Store at 20-25°C.
Overdosage:
Adults
5 to 10 mg orally once daily, depending on the severity of symptoms.
Geriatric Adults
5 to 10 mg orally once daily; a lower dose of 5 mg orally once daily is the recommended dosage for geriatric patients aged 77 years and older. Use the lowest effective dosage. Elderly patients are more sensitive to anticholinergic effects. OTC labeling recommends patients aged 65 years and older ask a doctor before use.
Children and Adolescents 6 years and older
5 to 10 mg orally once daily, depending on the severity of symptoms.
Children 2 to 5 years
Chewable tablets are generally not recommended as initial therapy. The initial dose is 2.5 mg orally once daily given as liquid formulation. If needed, the dose may be increased to 5 mg once daily using the chewable tablet.
Contraindictions: Those patients with a known hypersensitivity to it or its parent compound, hydroxyzine
Side Effects: Somnolence, insomnia, malaise, headache, dizziness; GI discomfort, dry mouth, abdominal pain, diarrhea, nausea, vomiting; occasional hypersensitivity; epistaxis, pharyngitis, bronchospasm.
Warnings:
Avoid alcohol, sedatives, and tranquilizers, due to the increased risk of drowsiness
May cause CNS depression; avoid activities requiring mental alertness until accustomed to the medication
Use caution in hepatic and renal impairment
The elderly may be more sensitive to adverse effects
Pregnancy:
There are no adequate and well-controlled studies on pregnant women.