CECAL
Calcium Carbonate (1.25 gm), Vitamin D3 (250 I.U.), L-Lysine Monohydrochloride (100 mg), Zinc Sulphate (35 mg), Magnesium (30 mg)
Vitamins are vital for the normal metabolism of the body. Vitamins vary in their chemical structure and are supplied in small amounts in the diet because they are not synthesized in the body or their rate of production is not sufficient for the maintenance of health (eg. niacin synthesis from tryptophan.)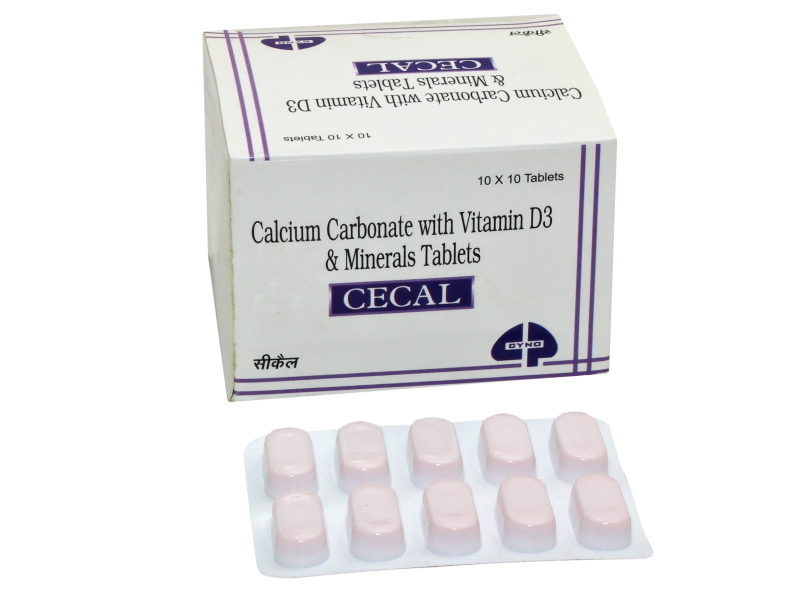 Mechanism of Action
All genomic actions of 1,25 (OH) 2D are mediated by VDR. VDR is a transcription factor and a member of the steroid hormone nuclear receptor family. It consists of three domains: the N-terminal DNA binding domain consisting of two zinc fingers that bind the discrete sites (VDREs), the C-terminal ligand-binding domain, and the hinge region together with two domains. The ligand-binding domain structure has been solved by X-ray crystallography (Rochelle et al., 2000). It consists of 12 helices. The terminal helix acts as a gating mechanism around the ligand involved and forms an interface for coactivators as well as facilitating the interaction of the VDR with its heterodimer partner, typically the RXR. Although there is substantial variability in the sequence of VDREs, the majority of those with the highest affinity for VDRs are direct repeats of hexanucleotides with a difference of 3 nt (neurotrophin) between half-sites, a motif known as as DR3.
Pharmacokinetic Properties:
Absorption and distribution of essential trace element zinc in humans were investigated by the pharmacokinetic study of serum zinc profile in 10 subjects after oral administration of a pharmacological dose of the metal, that is 0.69 mmol (45 mg) of zinc as ZnSO4.7H 2 O. The experimental conditions adopted include frequent measurement of serum concentrations, total probe time of 8 hours after ingestion, and improvement in basal zinc levels taking into account circadian variation. This study was performed to compare the pharmacokinetic indices of calcium absorption after a single oral (500 mg calcium) load of Citracal (calcium citrate) and Os-Cal (calcium carbonate). In 18 postmenopausal normal women, venous blood samples were obtained before and after a meal of Citracal, Os-Cal, or placebo (cellulose) breakfast for 6 hours for the measurement of calcium per hour.
Drug-Drug interactions:
Calcium can make it harder for your body to absorb certain medications. If you take other medicines, take them at least 2 hours before or 4 or 6 hours after taking calcium carbonate.
Other drugs may interact with calcium carbonate, including prescription and over-the-counter medicines, vitamins, and herbal products. Tell your doctor about all your current medications and any medications that you start or stop using.
Drug interactions can change how your medications work or increase your risk for serious side effects. This document does not contain all possible drug interactions. Keep a list of all the products you use (including prescription / nonprescription drugs and herbal products) and share them with your doctor and pharmacist. Do not start, stop, or change the dose of any medicine without your doctor's approval.
Precautions:
Before taking calcium carbonate, tell your doctor or pharmacist if you are allergic to it; Or if you have any other allergies. This product may contain inactive ingredients (such as milk or dairy products found in some brands), which may cause allergies or other problems. Talk to your pharmacist for more details.
If you have the following health issues, consult your doctor or pharmacist before using this medicine: high calcium levels (hypercalcemia), stomach / intestinal obstruction, kidney disease (such as kidney stones).
Tell your doctor if you are pregnant before using this medicine.
This medication passes into breast milk. Consult your doctor before breastfeeding.
Breastfeeding:
Calcium is found in breast milk. When calcium carbonate is used at recommended doses, it is unlikely to be harmful to the nursing child.
Fertility:
When men take calcium carbonate, there have been no studies looking at male fertility in pregnancy or potential problems for pregnancy.
Dosage:
Take the missed dose as soon as you remember. If it is almost time for your next scheduled dose, skip the missed dose. Do not take extra medicine to make up for the missed dose.
Duration of action:
Up to 2 week
Adverse Reaction:
Get emergency medical attention if you have signs of an allergic reaction: urticaria; Shortness of breath; swelling of your face, lips, tongue, or throat.
Storage:
Store at room temperature away from light and moisture. See packaging for exact temperature range. If you have any questions about storage, ask your pharmacist. Do not store in the bathroom. Keep all medicines away from children and pets.
Overdosage:
If anyone has treatment and has severe symptoms such as passing out or trouble breathing, call the doctor. Symptoms of an overdose may include nausea/vomiting, loss of appetite, mental/mood changes, headache, weakness, dizziness.
Contraindications:
Calcium carbonate is used in cases of hypersensitivity, kidney stones, high urinary calcium levels, elevated serum calcium, low serum phosphate, achlorhydria, or suspected detoxing poisoning.
Side effects:
Upset stomach, vomiting, stomach pain, belching, constipation, dry mouth, increased urination, loss of appetite, metallic taste.
Warnings:
Follow all instructions on your medicine label and package. Tell each of your healthcare providers about all of your medical conditions, allergies, and all the medicines you use.
Pregnancy:
Normal daily intake of calcium carbonate appears to be safe and effective to use during pregnancy. During pregnancy, the use of calcium carbonate above the recommended dietary allowances should be avoided.