CYFLU
Fluconazole (150 mg)
Fluconazole is an antifungal medication that is administered orally or intravenously. It is used to treat a variety of fungal infections, especially Candida infections of the vagina ("yeast infections'), mouth, throat, and bloodstream. It is also used to prevent infections in people with weak immune systems, including those with neutropenia due to cancer chemotherapy, transplant patients, and premature babies. Its mechanism of action involves interfering with the synthesis of the fungal cell membrane.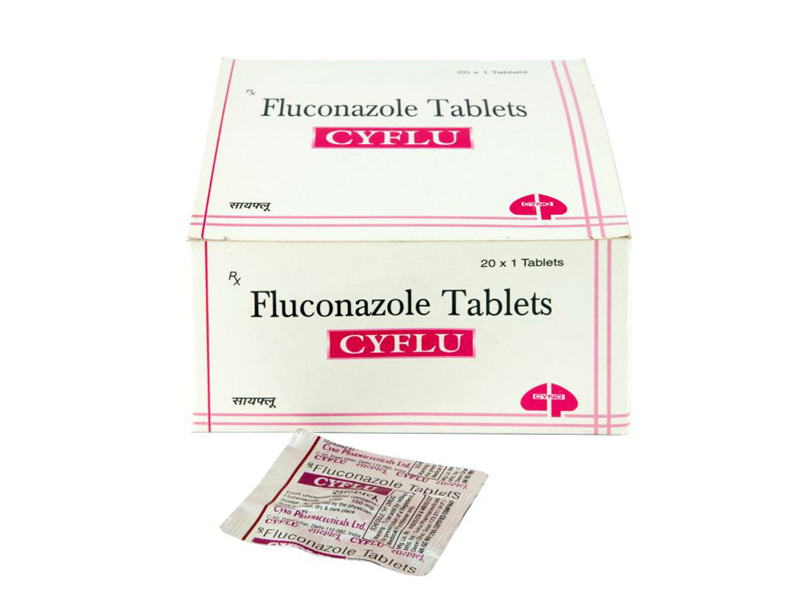 Mechanism of action:
Like other imidazole and triazole-class antifungals, fluconazole inhibits the fungal cytochrome P450 enzyme 14alpha-demethylase. Mammalian demethylase activity is much less sensitive to fluconazole than fungal demethylase. This inhibition prevents the conversion of lanosterol to ergosterol, an essential component of the fungal cytoplasmic membrane, and subsequent accumulation of 14α-methyl sterols. Fluconazole is primarily fungistatic; however, it may be fungicidal against certain organisms in a dose-dependent manner
Pharmacokinetic Properties:
Following oral dosing, fluconazole is almost completely absorbed within two hours. Bioavailability is not significantly affected by the absence of stomach acid. Concentrations measured in the urine, tears, and skin are approximately 10 times the plasma concentration, whereas saliva, sputum, and vaginal fluid concentrations are approximately equal to the plasma concentration, following a standard dose range of between 100 mg and 400 mg per day. The elimination half-life of fluconazole follows zero-order kinetics, and only 10% of elimination is due to metabolism, the remainder being excreted in urine and sweat. Patients with the impaired renal function will be at risk of overdose.
Drug-Drug interactions:
Drug interactions can change how your medications work or increase your risk for serious side effects. This document does not contain all possible drug interactions. Keep a list of all the products you use (including prescription / nonprescription drugs and herbal products) and share them with your doctor and pharmacist. Do not start, stop, or change the dose of any medicine without your doctor's approval.
Products that interact with this drug include Clopidogrel.
In addition to fluconazole, many drugs can affect the heart rhythm (QT prolonged), including pimozide, quinidine, macrolide antibiotics (eg erythromycin).
Fluconazole may slow down the removal of other drugs from your body, which may affect how they work. Examples of affected drugs include asunaprevir, cisapride, flibanserin, lomitapide, among others.
Precautions:
Before taking fluconazole, tell your doctor or pharmacist if you are allergic to it; Or for other azole antifungal drugs (eg ketoconazole, itraconazole); Or if you have any other allergies. This product may contain inactive ingredients, which may cause allergies or other problems. Talk to your pharmacist for more details.
Before using this medicine, tell your doctor or pharmacist your medical history, specifically: liver disease, kidney disease.
Fluconazole can cause a condition that affects the heart's rhythm (prolonged QT). Prolonged QT can rarely cause severe (rarely fatal) rapid/irregular heartbeats and other symptoms (eg severe dizziness, fainting) that require immediate therapy.
If you have some medical conditions or may have prolonged QT, taking other medications may increase the risk of prolonged QT. Before using fluconazole, tell your doctor or pharmacist of all medications you take and if you have any of the following conditions: definite heart problems (heart failure, slow heartbeat, QT in ECG Prolonged), family history of some heart problems (QT), prolonged age in ECG, sudden cardiac death).
Low levels of potassium or magnesium in the blood may also increase your risk of prolonged QT. This risk may increase if you use certain medications (such as diuretics / "water pills") or if you have conditions such as severe sweating, diarrhea, or vomiting. Talk to your doctor about using fluconazole safely.
Although uncommon, this medicine may make you dizzy. Alcohol or marijuana (cannabis) can make you dizzier. Do not drive, use machinery, or do anything that requires vigilance until you can do it safely. Limit alcoholic beverages. Talk to your doctor if you are using marijuana (cannabis).
Before having surgery, tell your doctor or dentist about all the products that you use (including prescription drugs, nonprescription drugs, and herbal products).
Older adults may be more susceptible to the side effects of this drug, especially prolonged QT.
During pregnancy, this medicine should be used only when needed. If taken during the first 3 months of pregnancy, it may harm the unborn baby. Discuss the risks and benefits with your doctor, and ask if you should use the medicine applied in or around the vagina instead.
Fluconazole passes into breast milk but is unlikely to harm a nursing infant. Consult your doctor before breastfeeding.
Breastfeeding:
Fluconazole passes into breast milk to reach concentrations similar to those in plasma. Breast-feeding may be maintained after a single dose of 150 mg fluconazole. Breast-feeding is not recommended after repeated use or after high-dose fluconazole. The developmental and health benefits of breastfeeding should be considered along with the mother's clinical need for Fluconazole capsules and any potential adverse effects on the breast-fed child from Fluconazole capsules or the underlying maternal condition.
Fertility: No data available
Dosage:
 In general, a loading dose of twice the daily dose is recommended on the first day of therapy to result in plasma concentrations close to steady-state by the second day of therapy.
The daily dose of this tablet for the treatment of infections other than vaginal candidiasis should be based on the infecting organism and the patient's response to therapy. Treatment should be continued until clinical parameters or laboratory tests indicate that active fungal infection has subsided. An inadequate period of treatment may lead to a recurrence of active infection. Patients with AIDS and cryptococcal meningitis or recurrent oropharyngeal candidiasis usually require maintenance therapy to prevent relapse.
Duration of action:
The serum half-life is approximately 24 hours, allowing for once-daily dosing; however, the daily dose of fluconazol to treat infections other than vaginal candidiasis should depend on the organism and the response to therapy
Adverse Reaction:
Adverse drug reactions associated with fluconazole therapy include
Common: rash, headache, dizziness, nausea, vomiting, abdominal pain, diarrhea, and/or elevated liver enzymes
Infrequent: anorexia, fatigue, constipation
Rare: oliguria, hypokalaemia, paraesthesia, seizures, alopecia, Stevens-Johnson syndrome, thrombocytopenia, other blood dyscrasias, serious hepatotoxicity including liver failure, anaphylactic/anaphylactoid reactions.
Storage:
Store at room temperature away from light and moisture. Do not store in the bathroom. Keep all medications away from children and pets.
Do not flush medications down the toilet or pour them into a drain unless instructed to do so. Properly discard this product when it is expired or no longer needed. Consult your pharmacist or local waste disposal company.
 Overdosage:
If anyone has treatment and has severe symptoms such as passing out or trouble breathing, call the doctor. Symptoms of an overdose may include hallucinations, mental/mood changes.
Contradications:
Fluconazole is contraindicated in patients who have shown hypersensitivity to fluconazole or any fraction of it. There is no information about cross-hypersensitivity between fluconazole and other azole antifungal agents. Care should be taken in prescribing Diflucan to patients with hypersensitivity to other azoles. Co-access to terfenadine is based on the results of multiple-dose interaction studies in patients receiving DIFLUCAN (fluconazole) at doses of 400 mg/day or more. Co-access to other drugs known to prolong the QT interval and which are metabolized via the enzymes CYP3A4 such as cisapride, astemizole, erythromycin, pimozide, and quinidine is contraindicated in patients receiving fluconazole.
Side effects:
Get medical help immediately if you have any of these rare but serious side effects: rapid/irregular heartbeat, severe dizziness, fainting.
This medicine can rarely cause severe liver disease. If you notice any symptoms of liver disease, seek medical attention, including severe abdominal/abdominal pain, persistent nausea/vomiting, yellowing of the eyes/skin, dark urine, abnormal fatigue.
A very severe allergic reaction to this drug is rare. However, if you notice any symptoms of a severe allergic reaction, seek medical attention, including fever, swollen lymph nodes, rash, itching/swelling (especially of the face/tongue/throat), severe dizziness. , respiratory distress.
Fluconazole is contraindicated in patients who:
• Hypersensitivity to other azole drugs like ketoconazole is known
• Taking terfenadine, if 400 mg of fluconazole is given multidose per day
• Concomitant administration of fluconazole and quinidine, especially when fluconazole is administered in high doses
• Take SSRIs such as fluoxetine or sertraline
Warnings:
Fluconazole should be used with caution in patients with liver dysfunction. Fluconazole is associated with rare cases of severe liver toxicity, including fatalities, mainly in patients with severe underlying medical conditions. In cases of hepatotoxicity associated with Fluconazole, no clear association of total daily dose, duration of therapy, sex, or the age of the patient has been observed. Fluconazole hepatotoxicity is usually, but not always, reversible upon discontinuation of therapy. Patients developing abnormal liver function tests should be monitored for the development of a more severe liver injury during fluconazole therapy. If diagnostic signs and symptoms develop with liver disease then fluconazole should be discontinued.
Pregnancy:
Use in pregnancy should be avoided in patients with severe or potentially life-threatening fungal infections, in which fluconazole may be used if the expected benefit reduces the potential risk to the fetus.